I've shared my love for all things French before – I've been speaking the language since kindergarten, and I'm hoping to finally visit France next year. To me, French Country style is the epitome of shabby chic, and I've loved the quaint appeal of toile fabric for as long as I can remember.
Around the holidays, I shared a Christmas project that allowed me to use up some of my extra toile, since I had purchased too much for this project. Today, I'm sharing what I did with the rest 🙂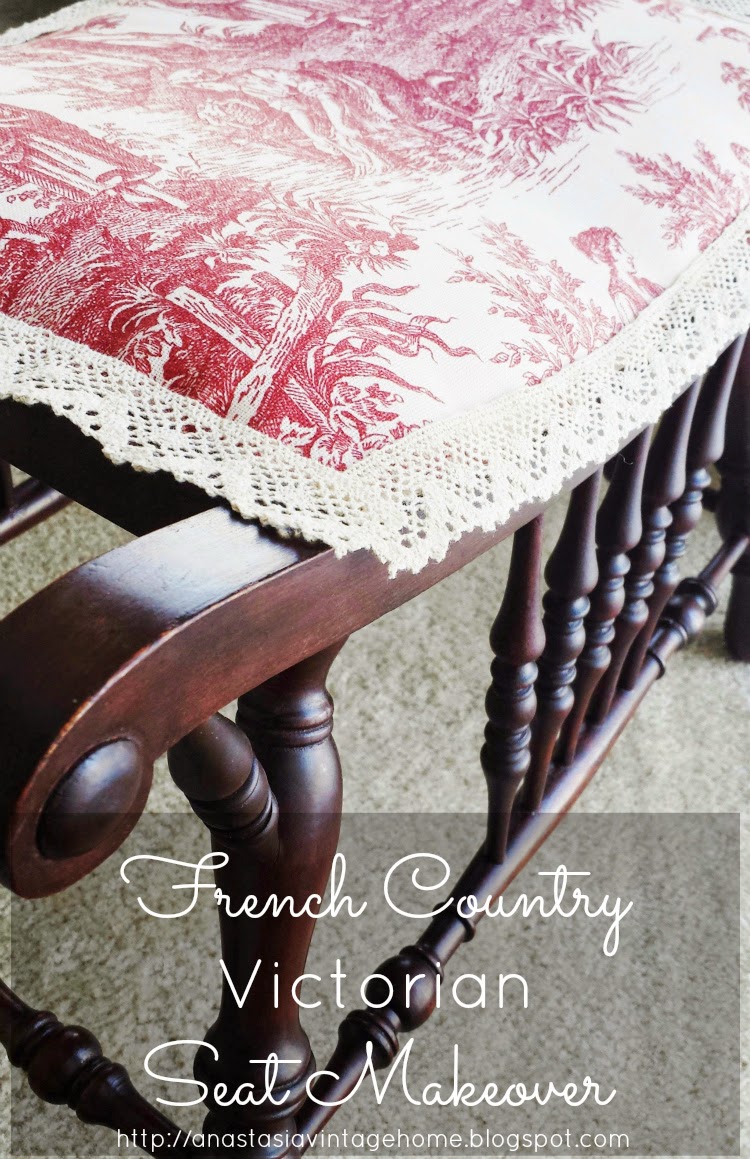 For the most part, our style tends to be more "modern vintage," but when I saw this little antique Victorian-era seat in one of our local Facebook groups, I could not pass it up. The workmanship was just to die for, but it was in need of some major help.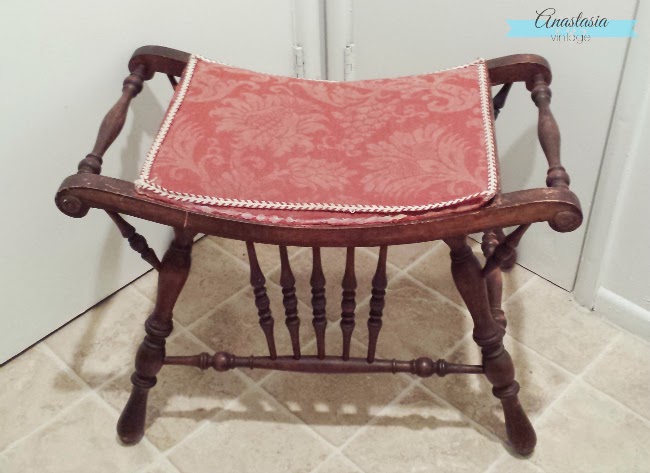 Before tackling the upholstery, I really wanted to bring the wood back to life. It was scratched faded from years and years of use.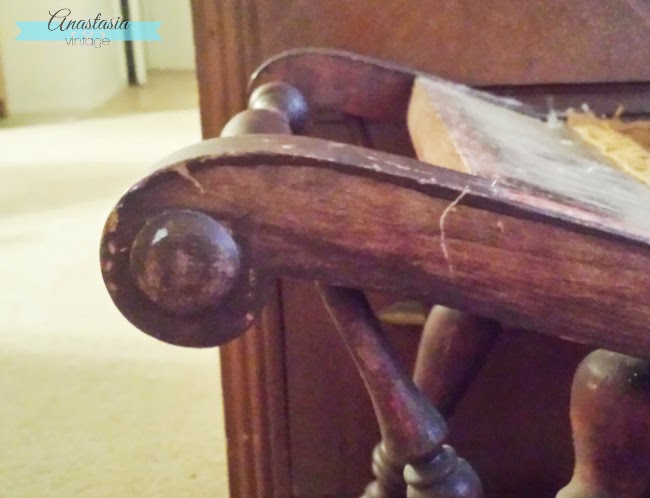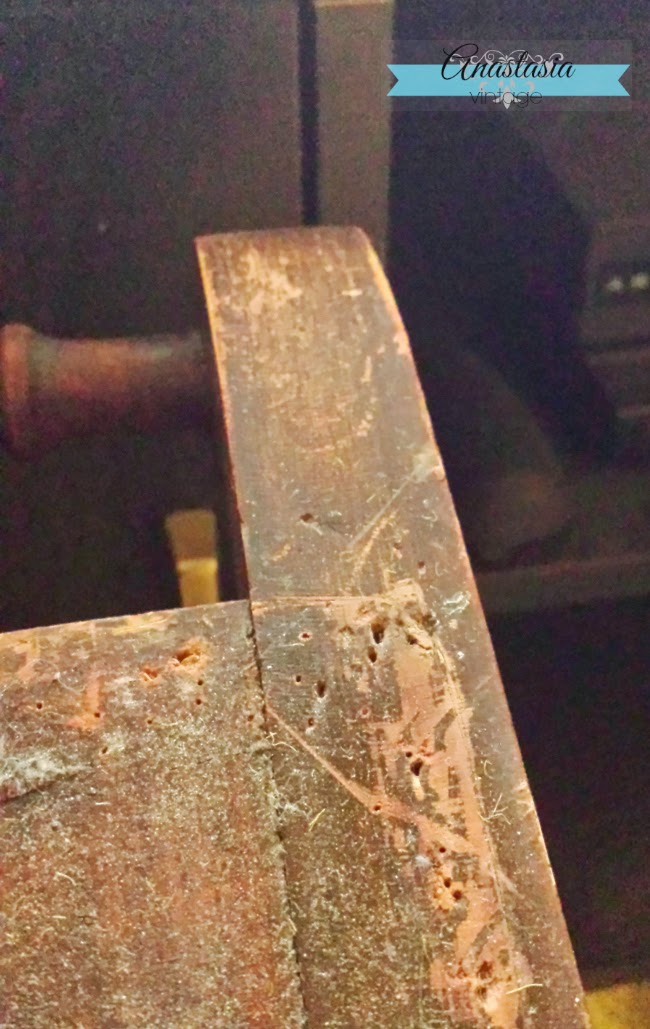 Despite all of that wear, I'm a firm believer that paint isn't always the right choice for every piece of furniture. Just call me old fashioned 🙂 I'm ok with painting over a lot of types of wood, but that lovely mahogany color always stops my paintbrush dead in its tracks.
With all of those delicate spindles, I didn't want to risk ruining it by sanding it down to prepare for a full-out re-staining. So, after testing a small area, I gave it a good cleaning and wiped the whole piece down with mahogany stain.  I was really surprised by the difference it made once it was dry.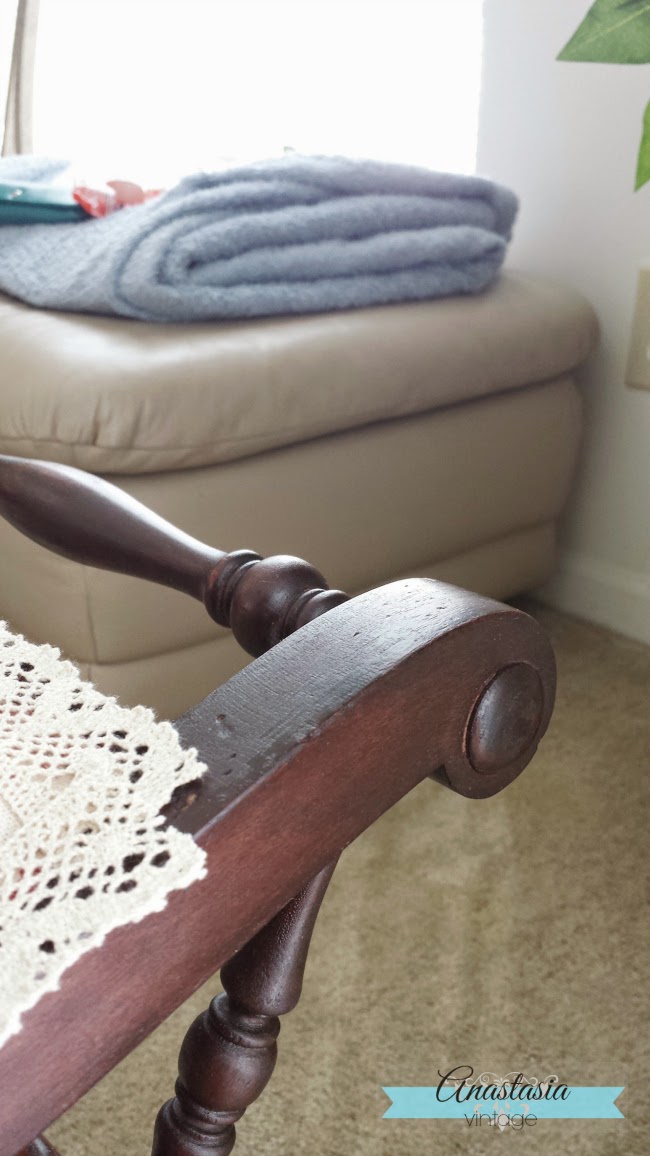 As for the old upholstery, it was dingy, worn, and dirty.  You'll see in the before picture that I got a little ahead of myself and started ripping off the trim as soon as it was out of the car. Take my advice and remove old upholstery outdoors whenever you can. Don't be like me and end up with animal hair and crumbs of unknown origin on your carpet. Yuck.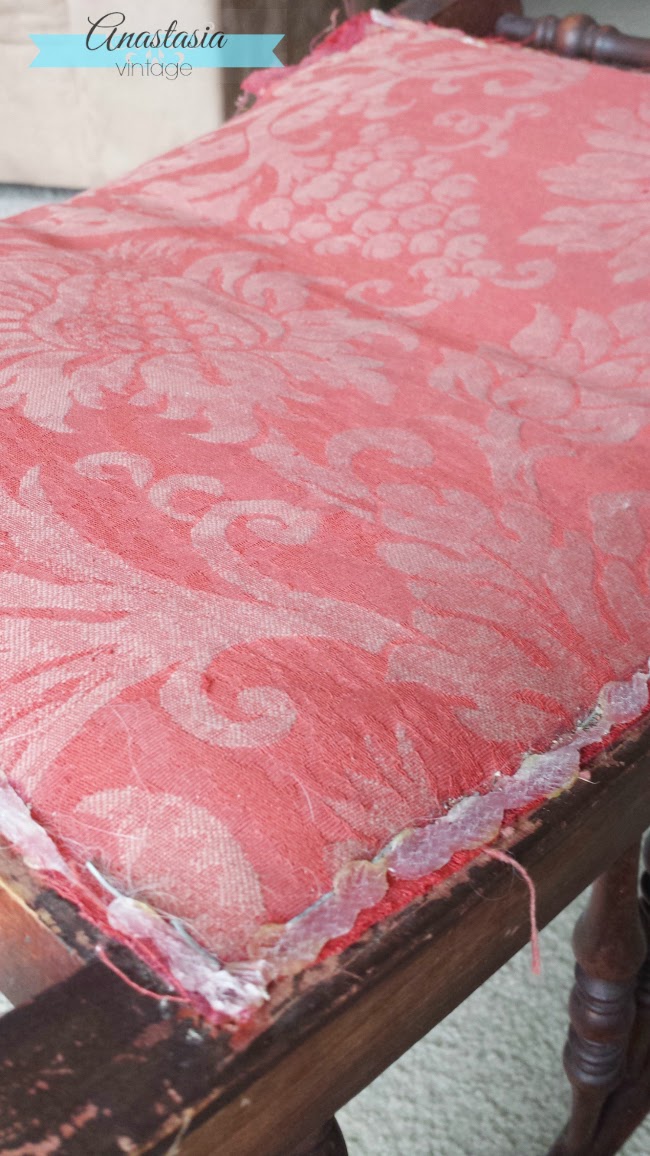 I was so glad to see that old fabric go and replace it with my toile. The crocheted lace trim finished the piece off perfectly. It would fit in perfectly in any country chic home, don't you think?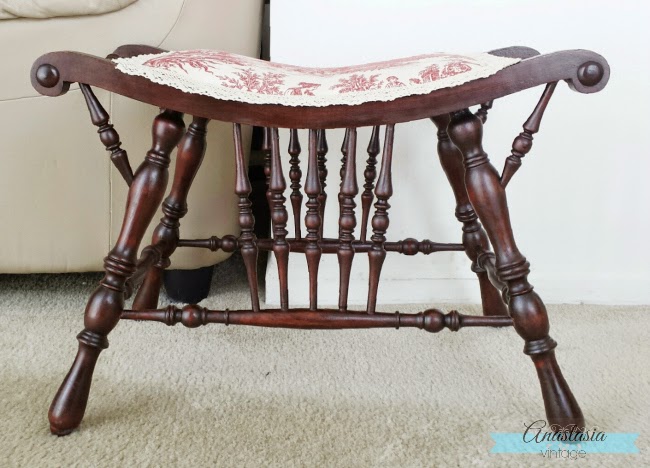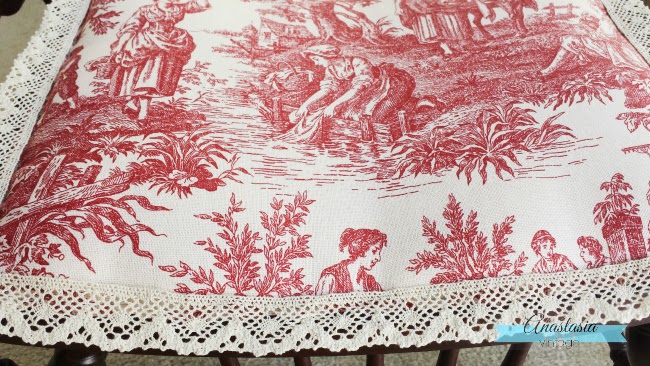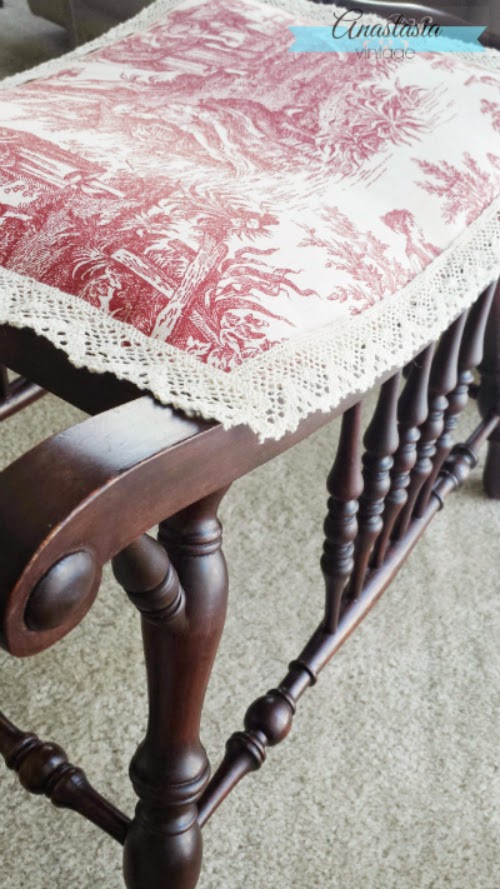 I love there are still some imperfections here and there in the wood. They give the piece so much character and history.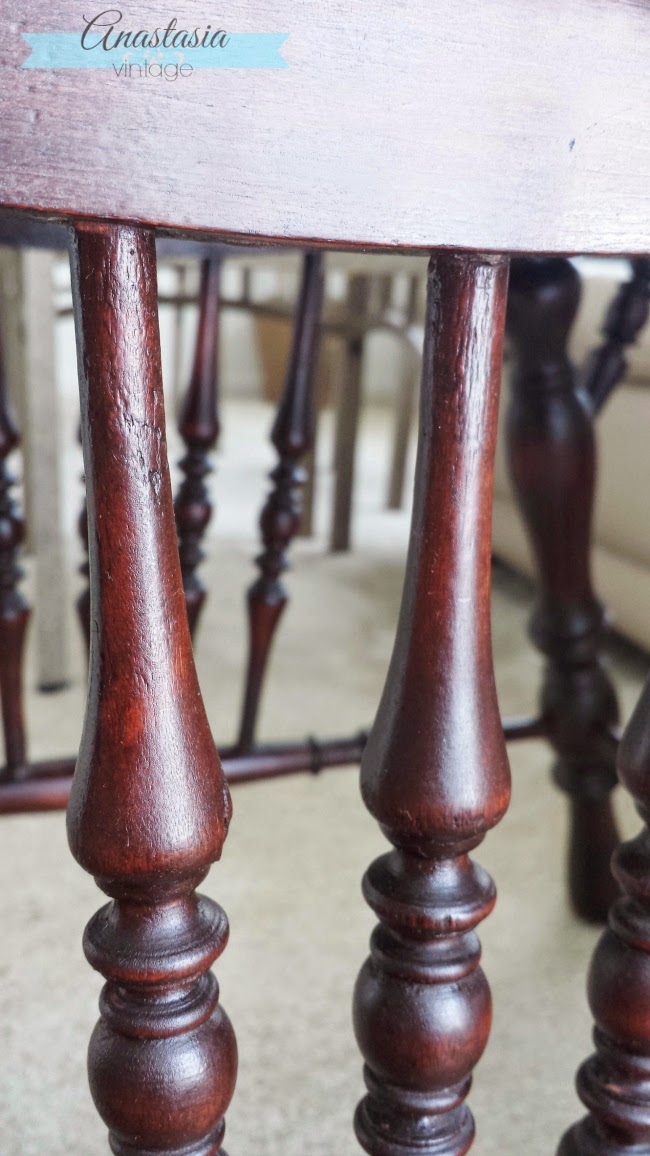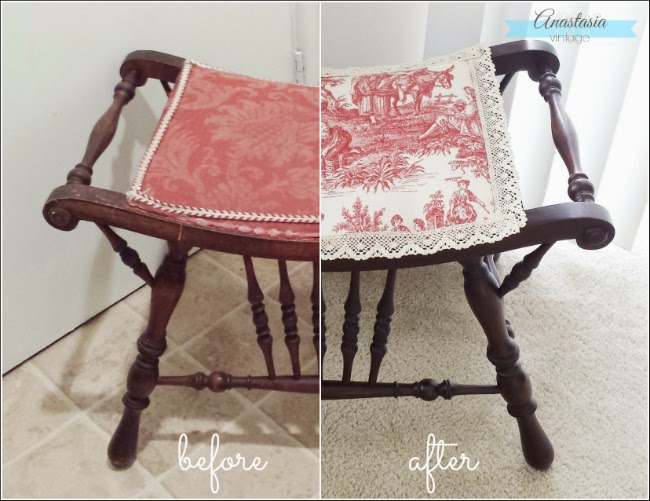 We've got some very cool new upholstery projects currently in the works (especially since the cold weather and heaps of snow have kept us working on smaller, indoor projects). Be sure to stay in touch so you don't miss out!
---
If you enjoyed this post, we'd love to connect with you! Find us on:
This post appeared first on Anastasia Vintage (www.anastasiavintage.com)