Recently, I've been working on a few wood refinishing projects for a local client. It's a bit of a departure from painting, but I love the opportunity to flex my refinishing muscles a bit 🙂
I'll be sharing the big reveal of her pieces over the next couple of weeks, but first, I'm excited to kick off the Working With Wood series, where I'll be sharing some essential tips with all of you!
Today's topic: gel stain.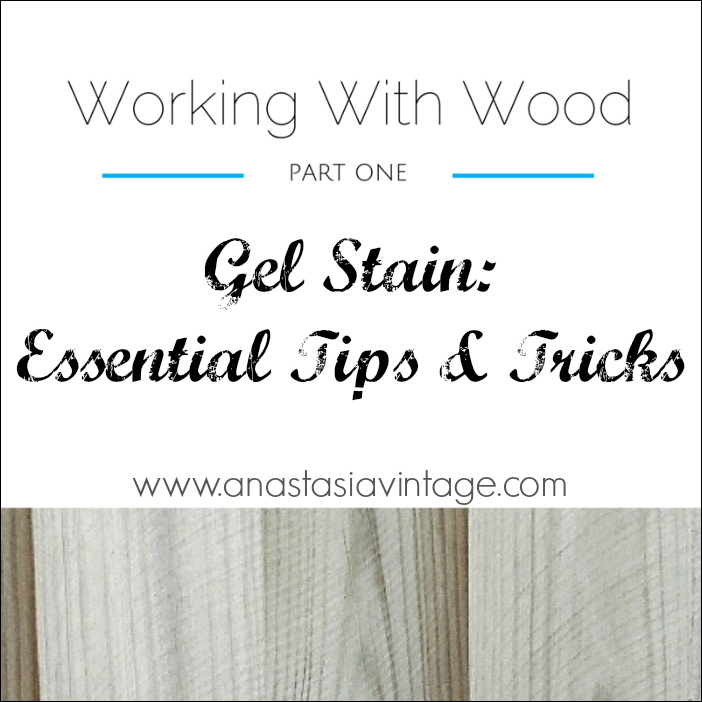 ---
Gel stain is a very popular option for reviving wood pieces. It's especially nice to work with because of its consistency and coverage. You may hear it called "java gel" or other names, but gel stains are made by several brands (including General Finishes and Minwax), and Java is only one of many, many of beautiful colors.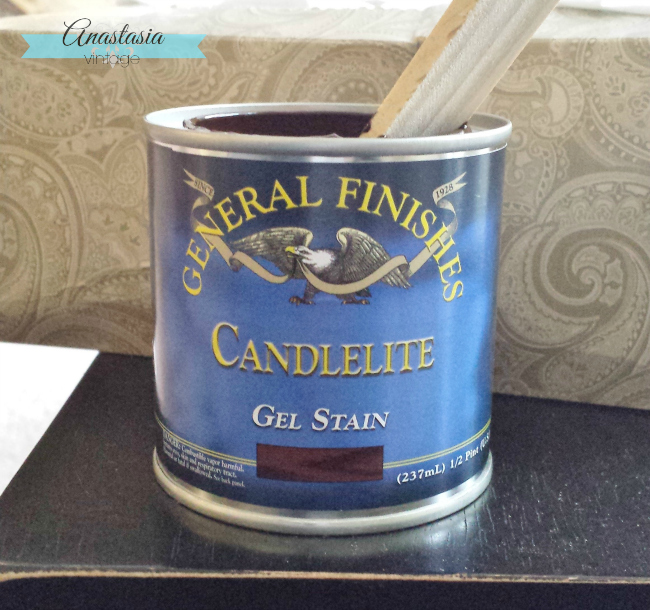 For my project, I used General Finishes Gel Stain in Candelite, a lovely warm brown with a red undertone. Here's how I like to use it:
1. The Basics
Like with any stain, it's important to wear protective gear. Gloves and goggles can help to protect your skin and eyes. To avoid inhaling the fumes from the stain, wear a face mask and be sure to work in a very well ventilated area (preferably outdoors).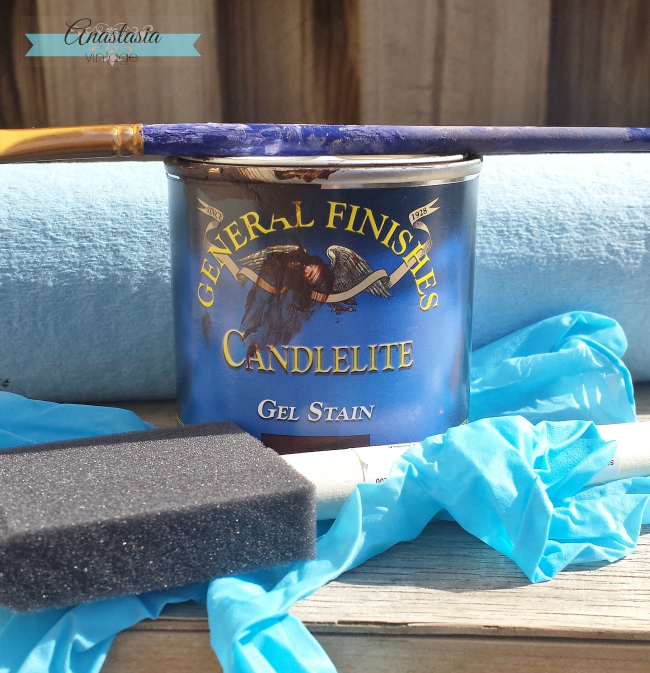 You'll also need:
a foam brush
shop towels or a staining pad
an artist's paintbrush
2. Prepare Your Piece
Since I was going from a darker color to a lighter gel stain, I chose to strip my piece completely. Should you decide to do this, be sure to thoroughly clean off all of the stripper before starting to stain – I used a mild detergent solution and scrubbed with #0000 steel wool.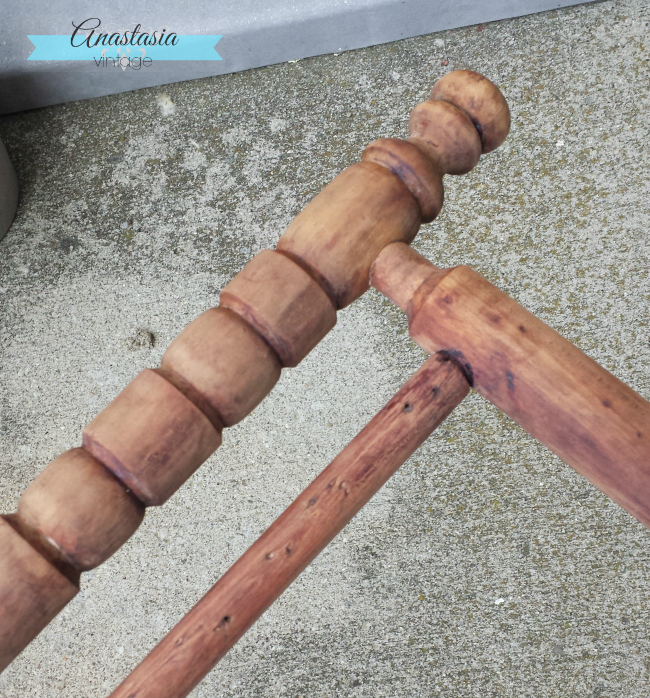 If you are going from a lighter piece to darker stain, you need not strip your piece! Just give it a good sanding with medium to fine grit sandpaper to roughen up the old finish and you're good to go! I used 120, followed by 320. Be sure to clean your piece well after sanding with paper towels / shop cloths.
3. Stir Well
It's really important to stir gel stain very thoroughly before applying, since the pigments tend to settle towards the bottom of the can, and the thicker consistency can make it harder to re-distribute them. You can also turn your can upside down for 15-20 minutes before opening, then give it a good stir.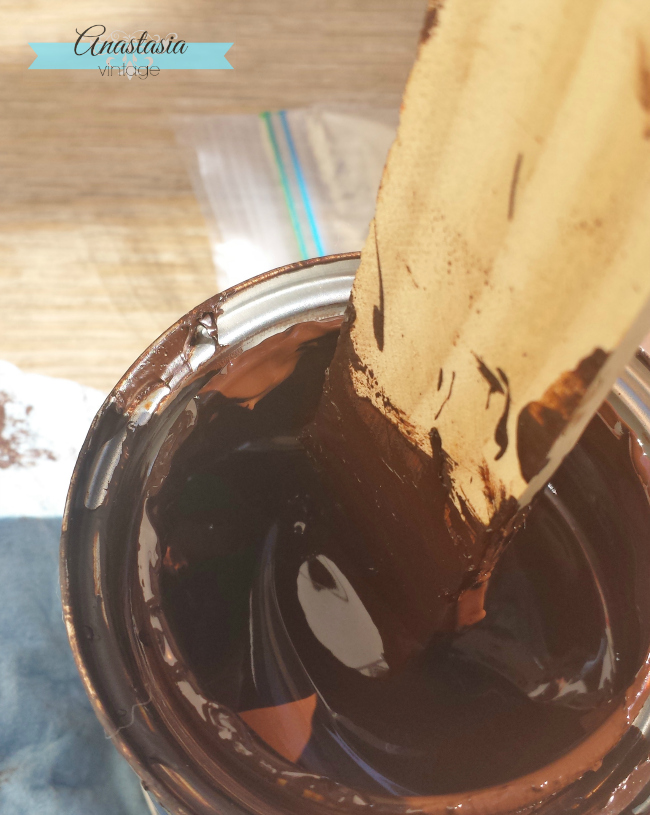 4. Apply the Stain
Gel stain has about the same consistency of chocolate pudding, and goes on in a nice thick coat like paint. I like to "hold" a bit of stain on my stir stick and apply that to my piece, so that I can keep my can closed as much as possible.
Using a foam brush to apply the stain gives good control and helps you to apply in even coats. If your piece has a lot of small crevices, you can use an artist's paintbrush to get the stain there are well.
Divide your piece into "sections," and apply and wipe back the stain one section at a time. I like to work in sections of no more than about 2 sq. ft.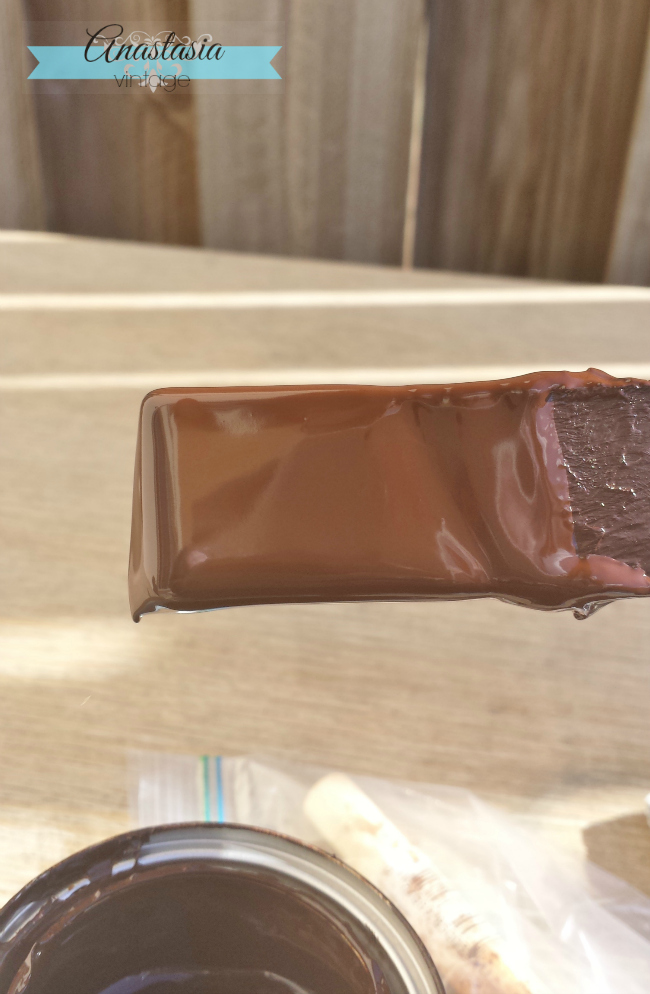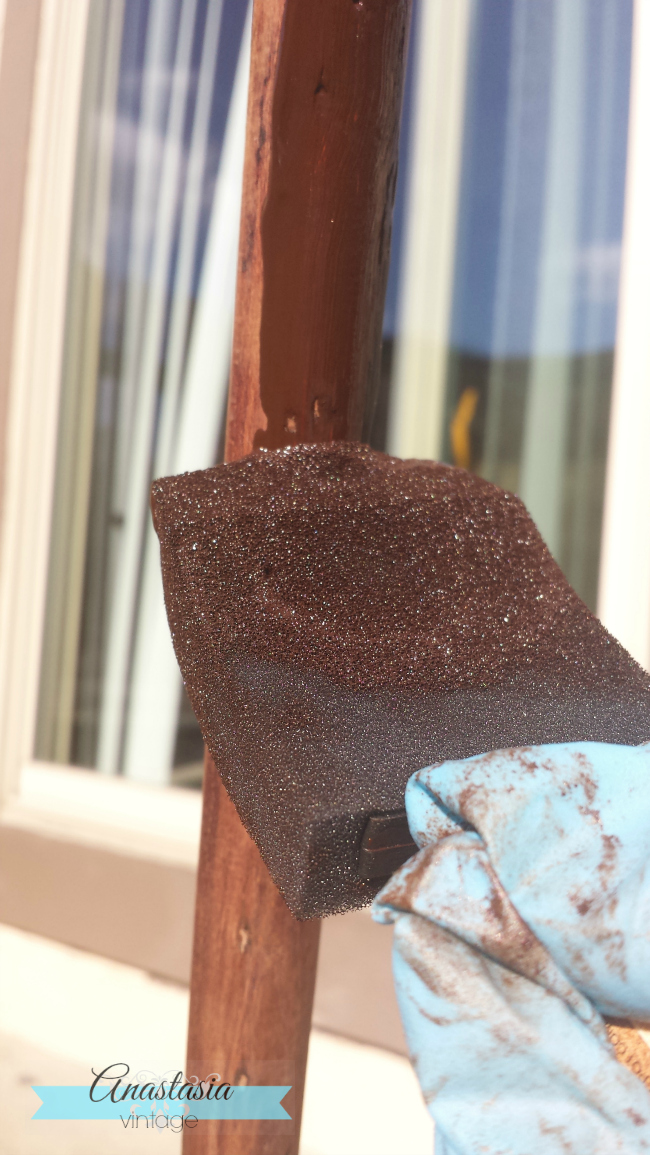 5. Wipe Back the Excess
Here's one BIG difference between gel stain and regular stain: gel stain dries very quickly. After applying the stain to one section of my piece, I let it sit for 30 seconds maximum before wiping away the excess with a shop cloth / staining pad. If you allow the stain to sit for too long, it becomes tacky and you'll be left with lint or fibers in your stain after wiping. Trust me on this one 😉
If you do end up with small fibers in your stain, you can sand it away very lightly with 400 grit sandpaper once the stain is completely dry.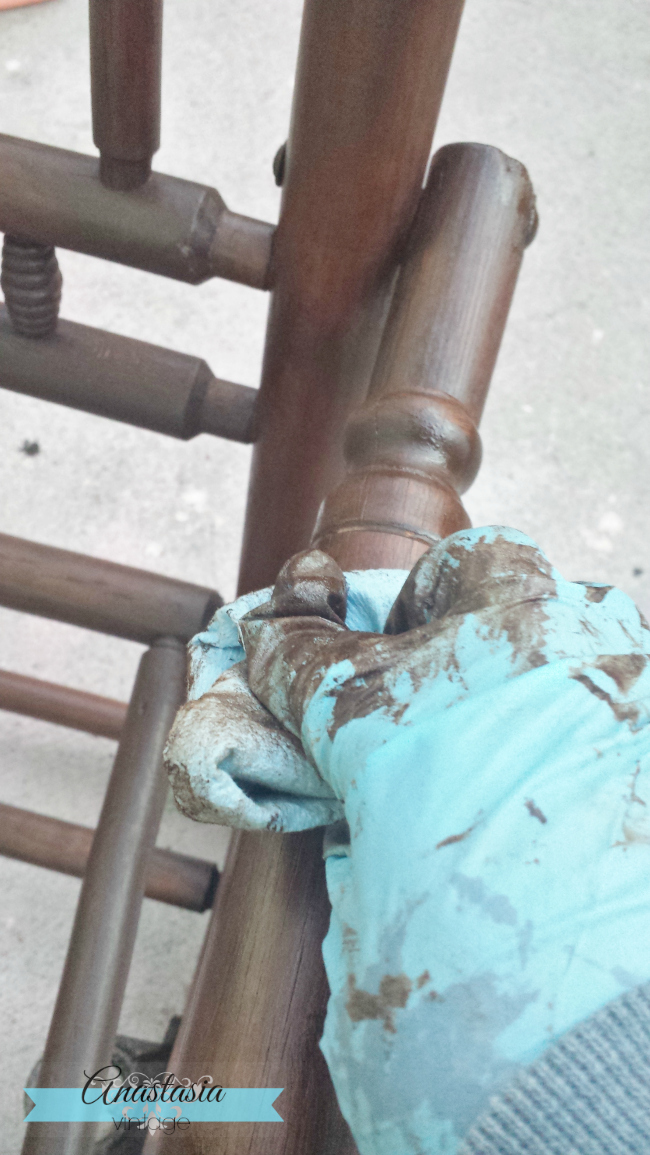 6. Apply the Topcoat
My two favorite options for topcoat over stain are General Finishes High Performance Topcoat and Mixwax Wipe-On Poly.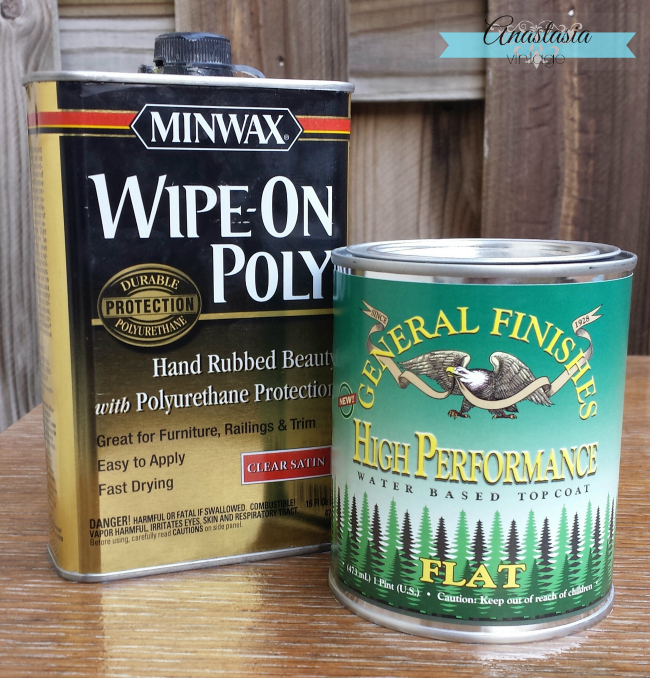 Since it's important to match the base of the topcoat to the base of the stain, both can work depending on your piece. Oil-based stain (like General Finishes Gel Stain) goes with an oil-based topcoat (like Wipe-On Poly or regular polyurethane), and vice versa.
I use a foam brush to apply High Performance Topcoat, and a lint-free cloth, like an old t-shirt or a shop towel, to apply wipe on poly. For both products, apply in thin coats, sanding in between coats with 400 grit sandpaper.
---
Check out the difference some gel stain can make! And check out the final reveal of the piece I redid – it's an awesome transformation!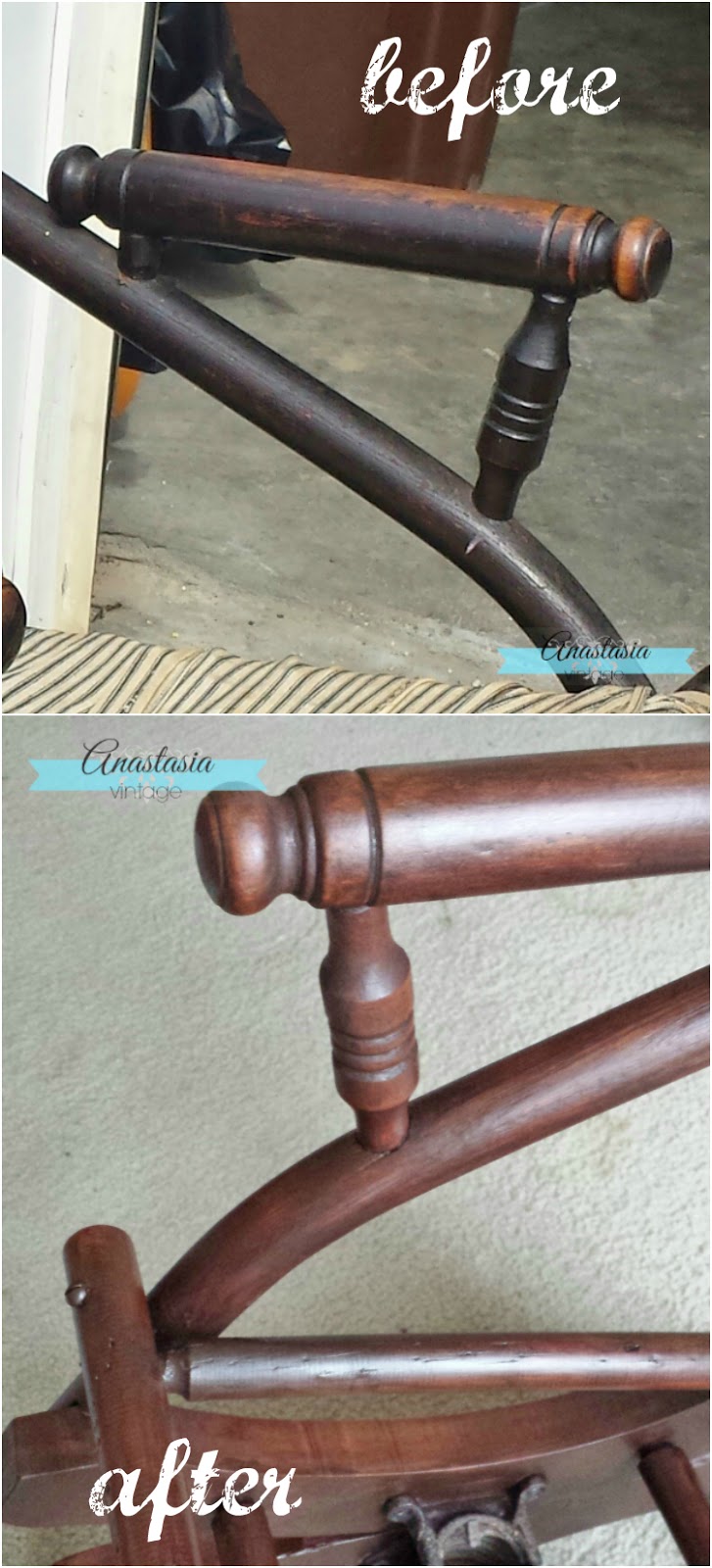 That color really floats my boat, friends 🙂
UPDATE: Did you know you can use gel stain over laminate, too? Check out this post for tips!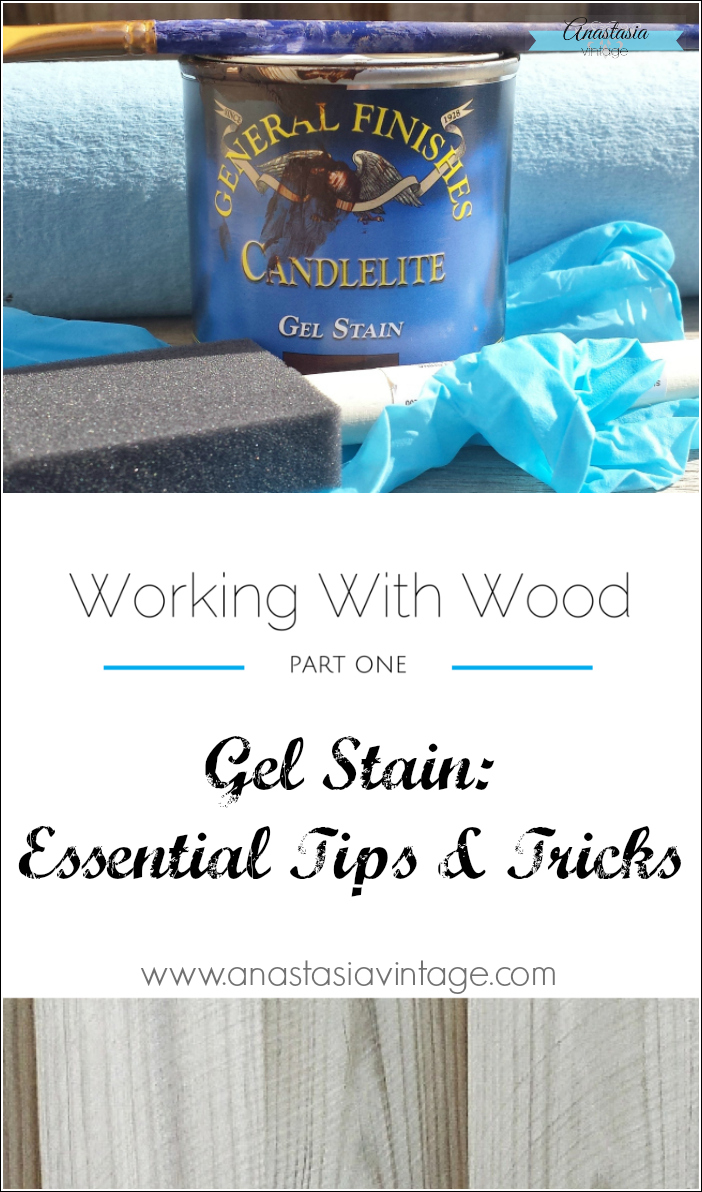 ---
{ Also in the Working With Wood Series }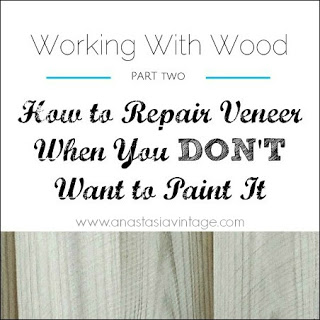 ---
If you enjoyed this post, we'd love to connect with you! Find us on:
This post appeared first on Anastasia Vintage (www.anastasiavintage.com)