It's hard to believe another month is coming to a close. I can't be too sad about it though – the end of the month means sharing with you the winner of The Fab Furniture Flippin' Contest and my favorite picks from the bunch!
June has been an incredible month for the FFFC. We've launched our new Facebook page, and even had a feature in The Huffington Post! It's hopefully the first of many great milestones for our talented group of participants and hosts!
The combination of this month's theme ("Shabby Chic Storage") and sponsor (The Old Fashioned Milk Paint Company) made for some amazing entries. Judging practically came down to the wire on this one, and choosing my faves was even harder!
So I went with my gut; each of my following faves gave me a feeling much like the one I get when I see an adorable baby, or when I step outside into fresh air after zumba class – pure glee 🙂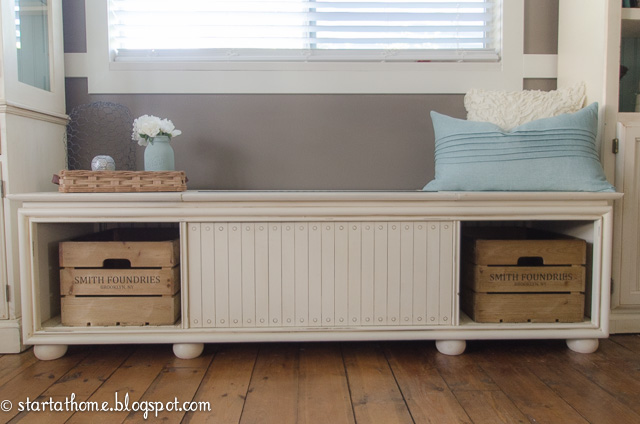 To me, this piece is nothing short of perfection. I love the color, the little bun feet, the added bead board detailing on the inside, and even Brooke's styling choices. It fits so beautifully in her lovely home that you'd never guess it was a new addition. And the fact that it started out as a yucky brown record cabinet makes this transformation that much more incredible!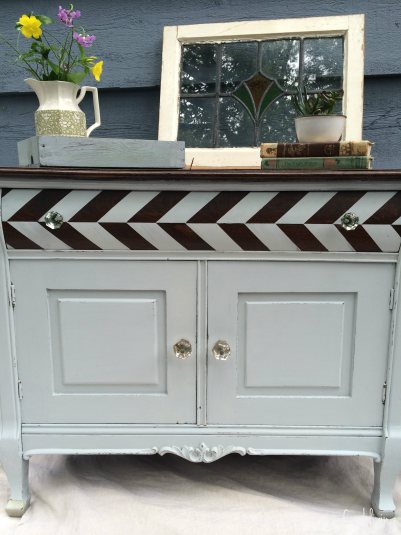 I may not have ever told you this, but I love herringbone. Like, I seriously LOVE it. It's one of those patterns I've always been nervous to try, because I love it too much to bear the thought of messing it up 🙂 Jenny, on the other hand, did a masterful job of her herringbone pattern – it's the perfect way to add some interest while still showing off some of her cabinet's beautiful wood grain. Simply genius. Every element of this piece works together so well, from the unpainted top, to her custom milk paint color, to the newspaper-lined drawer.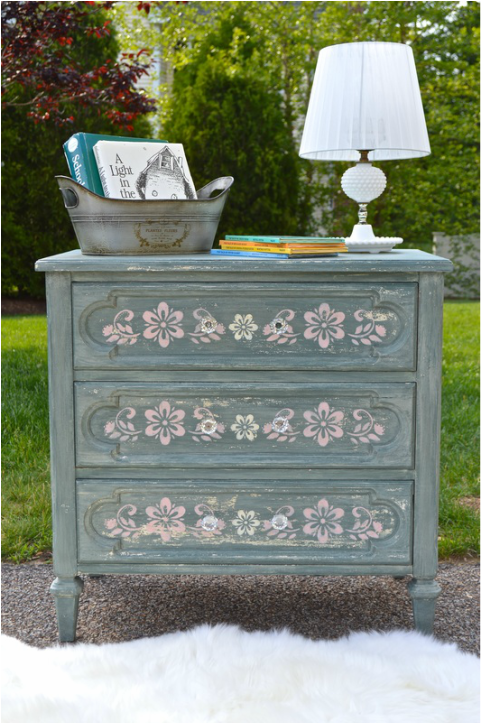 I don't even know where to begin telling you about this beauty. Kara put incredible attention to detail into this piece, and it truly shows in the result. I love how she fully embraced the wonderful chippy and worn finish that milk paint is so famous for, and her color choices create such a dreamy, ethereal feel. It's just brilliantly done, and to me, an inspiration.
Favorite Picks, please grab a button!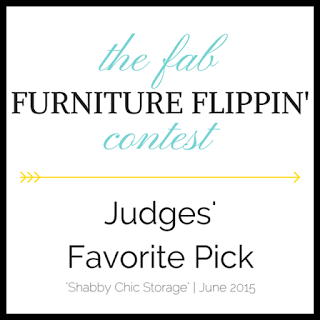 And now, the winner of the June Fab Furniture Flippin' Contest,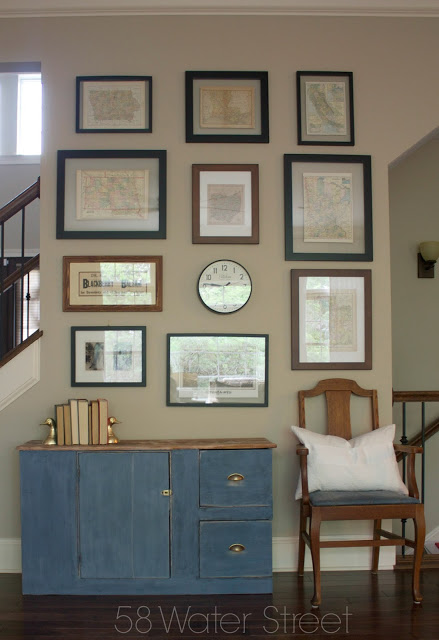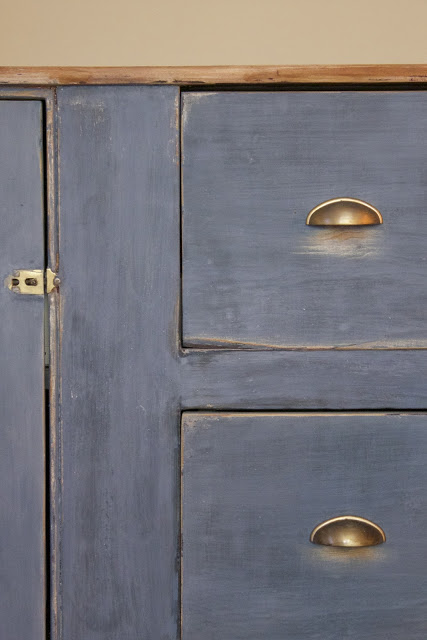 There were so many elements of this piece that all of our judges just loved! Colleen used milk paint to create beautiful layers of color and texture. She updated this old family heirloom jelly cupboard with a newly stained top and fresh hardware, and gave it some contemporary styling to blend in with the rest of her home. Plus, there's a truly heartwarming story behind this piece that you just have to read 🙂
Colleen is the very deserving winner of a great Old Fashioned Milk Paint Co. prize package, which includes:
Six quarts of OFMP (her choice of colors), one quart of Extra-Bond, one pint of Antique Crackle, one 5 oz. tin of Daddy Van's Clear Wax, and one 2 oz. tin EACH of Daddy Van's Antique Brown & Shadow Black waxes!
Congratulations Colleen! Please grab a button for your blog!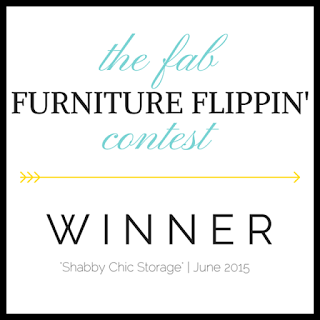 ---
Be sure to check out all of the June contest entries here, and visit Evey, Carrie, Lynn and Charlotte's blogs to see their favorites from this month, too!
Next week, we launch a brand new and very colorful contest – stop by for all the details on Monday! Have a great weekend!
This post appeared first on Anastasia Vintage (www.anastasiavintage.com)