Disclosure: This post contains sponsored links from Unicorn SPiT and D. Lawless Hardware. All opinions I share about these products are 100% honest and entirely my own. Please see our full disclosure policy here.
Have you been keeping up with The Fab Furniture Flippin' Contest? We'll be announcing the August winners this Friday (woohoo!), and the September edition launches next Monday! Things are moving quickly here, but I'd be remiss if I didn't share with you my contribution for the month.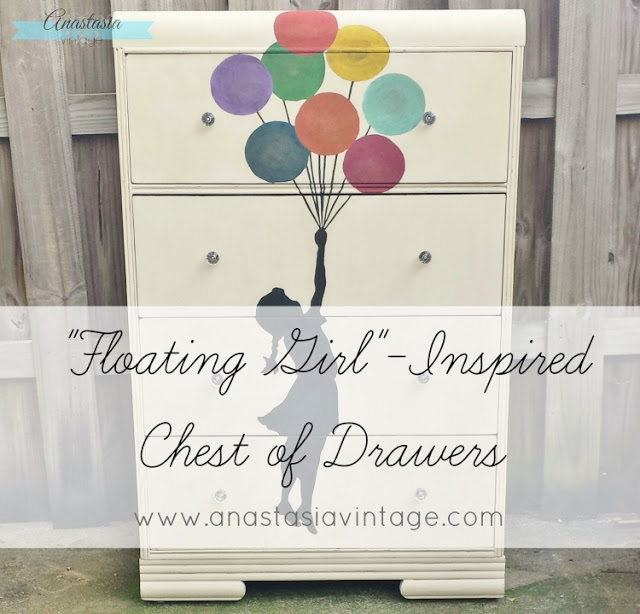 As you may remember, our awesome July and August sponsors were Unicorn SPiT and D. Lawless Hardware. Today, I'm sharing a piece incorporating both of their products, inspired by lovely piece of art and an even lovelier person 🙂
But first, a bit of backstory.
In my other life, as you might know, I'm a psychology graduate student. A couple of years ago, I worked at a children's hospital – it was, by far, one of my favorite jobs yet, and the people were just incredible.
One of them had an especially big heart and impeccable taste in everything, including art. It was this friend who introduced me to her:
She goes by many names – Balloon Girl, Floating Girl, Girl with Balloons – and she's the subject of many vinyl wall decals, posters, t-shirts and other goods around the internet. Created by the British street artist "Banksy," known for his often satirical work on themes of politics and social commentary, the original painting is located on Israel's West Bank barrier.
The piece is intentionally open for interpretation, but to me, represents hope and triumph over challenges. And it always reminds me of my former co-worker, who has herself risen above some significant obstacles in her own life with courage and grace. It's an image that has stuck with me since then, and the idea for this project had been bouncing around my mind for many months.
Fast forward to this spring, when I found this beaten-up chest of drawers through a local Facebook group: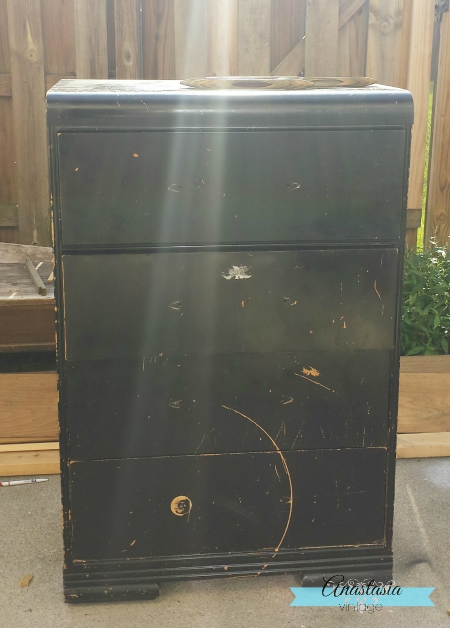 She was in pretty rough shape – the surface was all scratched up, with a nice big semi-circle where I'm sure some kiddo had spent hours spinning aroudn the drawer pull that was missing a screw. Gotta love it 🙂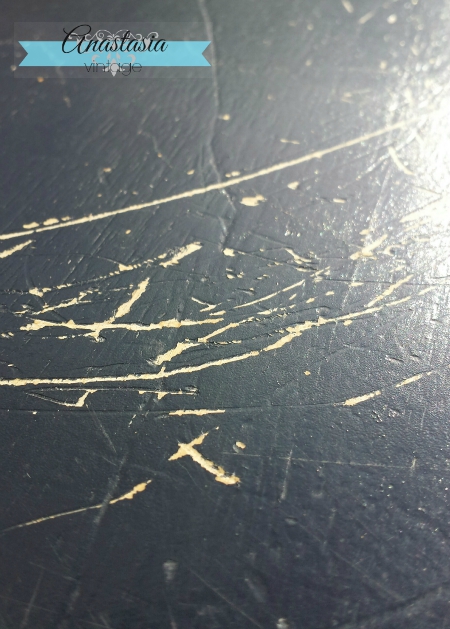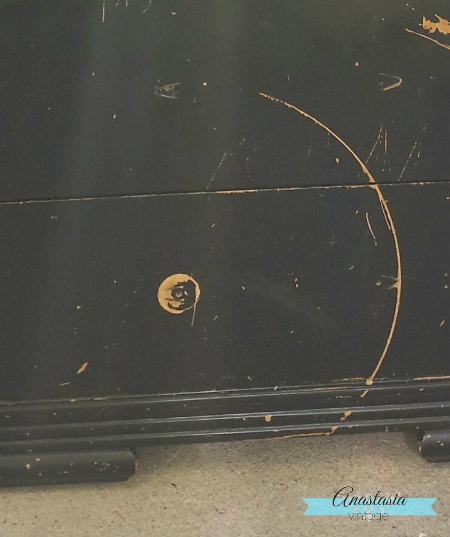 But with those perfectly flat drawers, it was just what I was looking for. I snapped her up, and after a few rounds with two kinds of paint stripper, she was ready to sand and paint.
Once the prep was done, I printed out this little lady and transferred the iamge to the drawers using my tried and true method.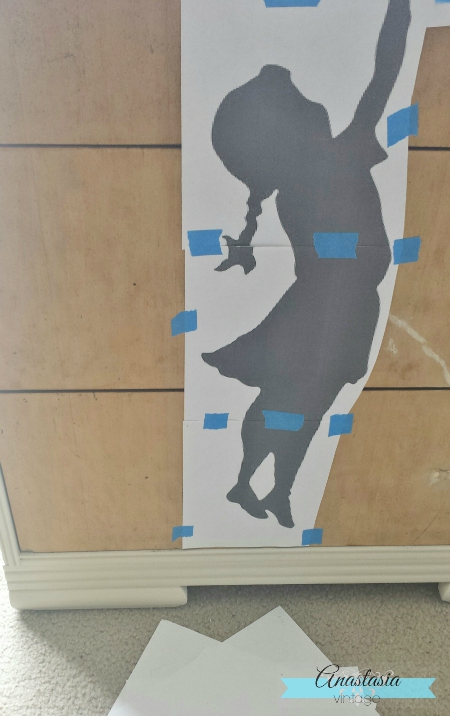 There was much debate (in my head) over the color scheme, but I eventually decided to take advantage of the full spectrum of Unicorn SPiT colors I had! Midnight's Blackness was ideal for the girl's silhouette, while the balloons were brightened up with some of my other favorite SPiT shades.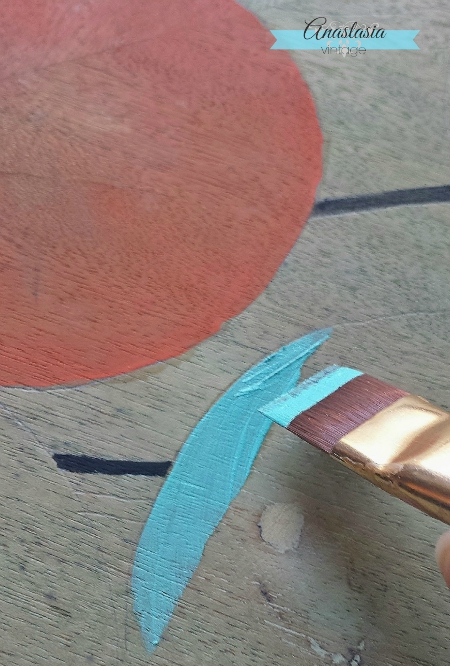 Using so many different products on this piece meant doing a bit of experimentation to figure out how to seal it all. I made the rookie mistake of trying to seal both the painted and SPiT parts of the drawer fronts with polycrylic in one fell swoop. Literally, with one long brush stroke. But it turns out that water-based topcoats will "reactivate" Unicorn SPiT after it has dried, so I had some major SPiT-to-paint smudging going on (note: water-based topcoats can also cause Unicorn SPiT to "bubble," which I knew beforehand and had tested for).
So yeah…I didn't take a pic of this part. I was too busy freaking out trying to fix it. But after a few wipes with a wet rag and a bit of touching up, all was once again right with the world 🙂
Phew!! Ready for the big reveal?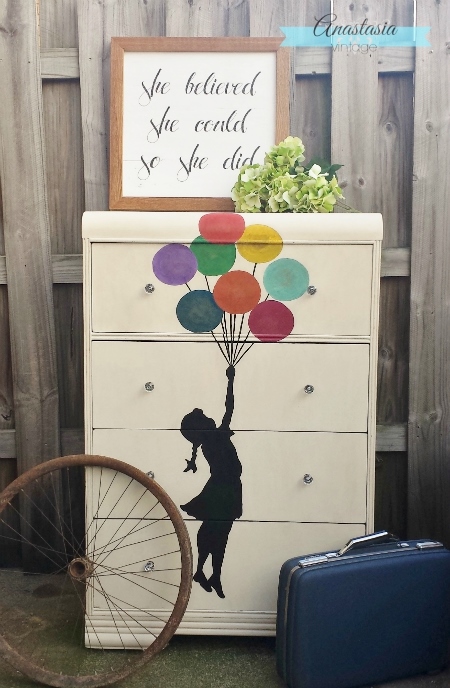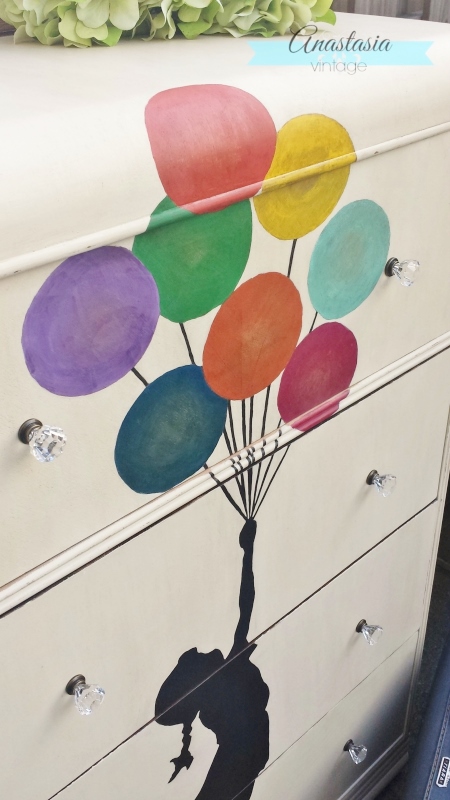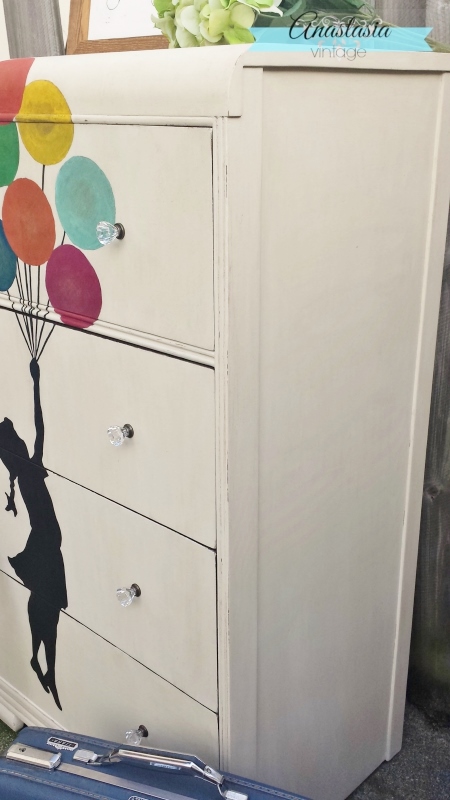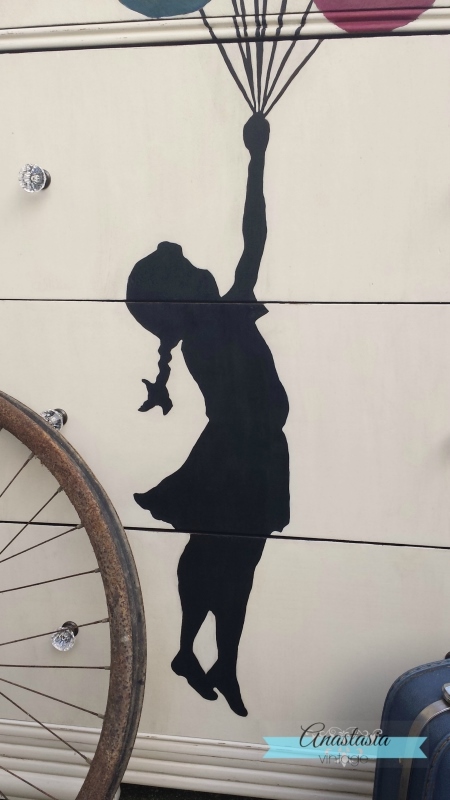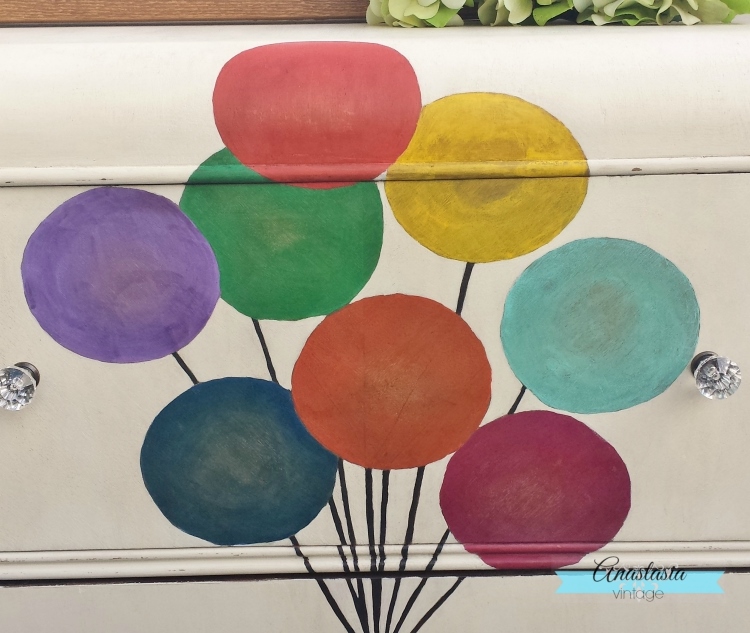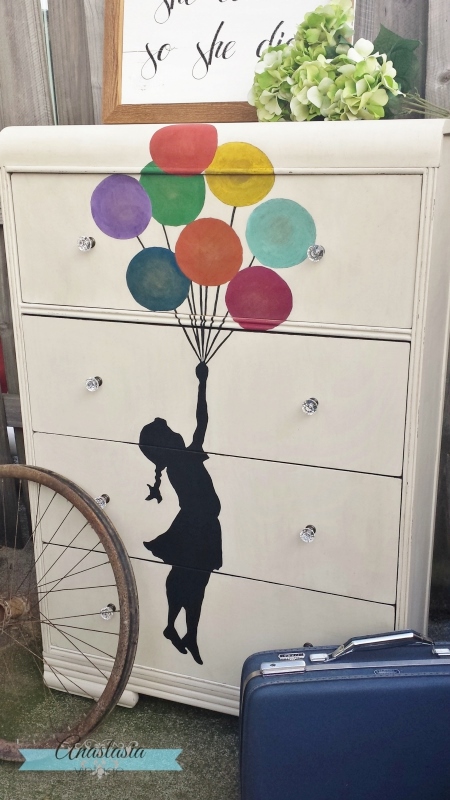 And don't you just love these clear knobs? I honestly searched for almost a month for a reasonably priced option with just a bit of a rustic touch, and nothing was quite right. Thankfully, D. Lawless came along as our August sponsor, and they did NOT disappoint!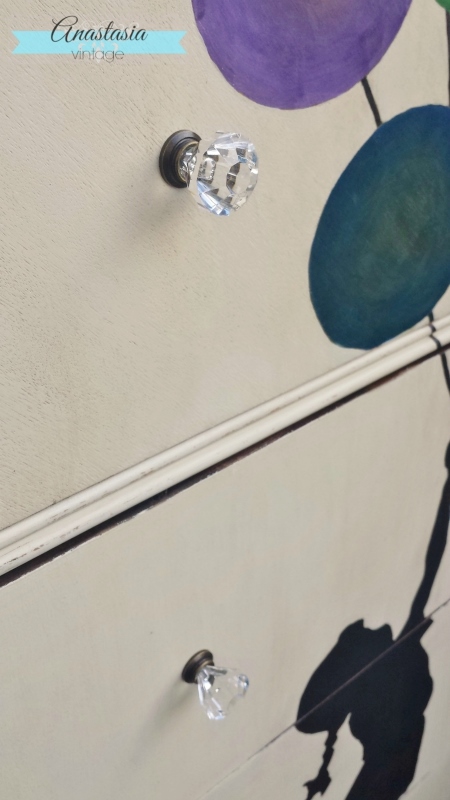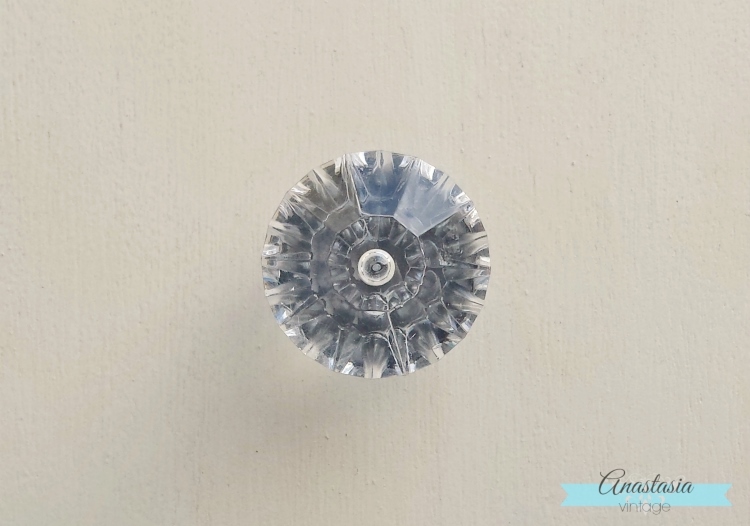 I had just as much fun staging this piece as I did creating it. The sign on top was painted just for this little gal, and I was fortunate enough to find this and two other rusty wheels at a friend's barn the day before.
It feels great to have finally brought this idea to life. And, it's available now; contact us at info@anastasiavintage.com for details!
The whole scene inspires me to keep moving forward and pushing towards my dreams – I hope it inspires you, too 🙂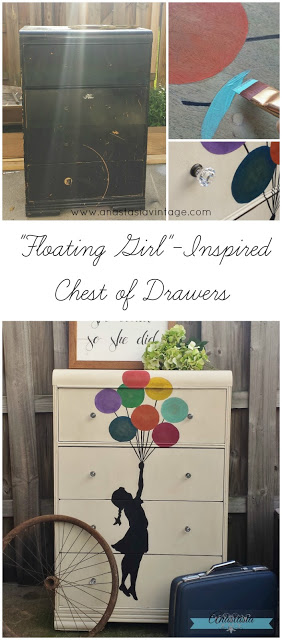 ---
If you enjoyed this post, we'd love to connect with you! Find us on:
---
Shared at these wonderful link parties
This post appeared first on Anastasia Vintage (www.anastasiavintage.com)