Disclosure: This post contains sponsored links from Hickory Hardware, Menards; and Pittsburgh Paints & Stains. All opinions I share about these products are 100% honest and entirely my own. Please see full disclosure policy here.
Good morning! I'm over the moon to share our latest makeover with you today. Several weeks ago, I was among a group of bloggers invited to revamp an IKEA Rast Dresser, with help from Hickory Hardware, Menards, and Pittsburgh Paints. I'd seen many versions of the IKEA Rast hack over the past few years, and I couldn't wait to get my hands on one to try it out!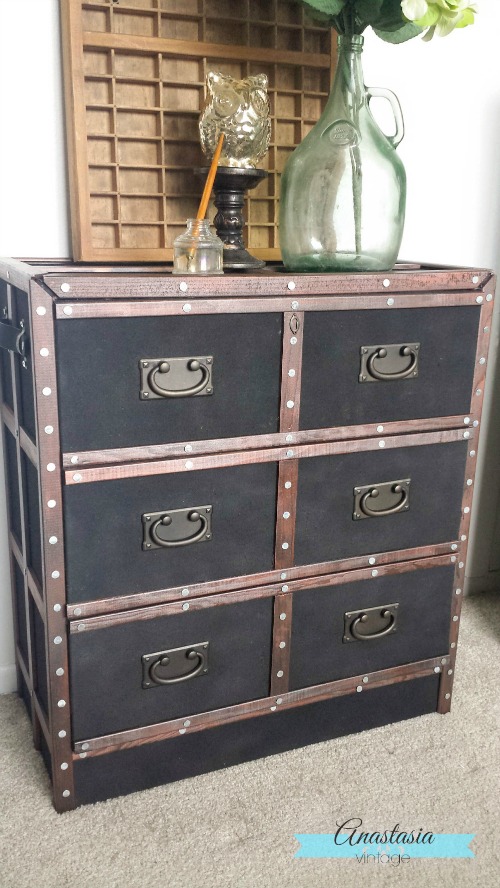 The Rast dresser is really about the size of a large nightstand, and it's the prefect blank canvas to execute just about any vision. You can check it out here.
I'd never before tried to recreate a designer piece, so this was an ideal opportunity to tackle a Pottery Barn item I've admired for some time. As you might have noticed, I've been on somewhat of a modern-rustic-industrial kick for a the past couple of months (see evidence here, here and here…lol). So it probably comes as no surprise that I fell in love with this piece the moment I saw it on the PB website. Behold, the gorgeous Ludlow Trunk Secretary Desk.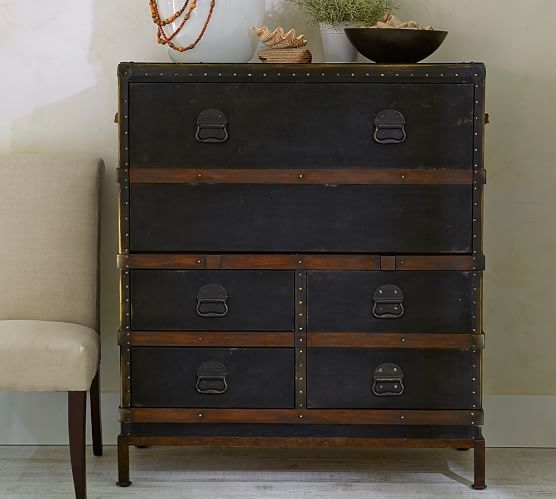 Isn't it stunning? It's inspired by a repurposed vintage trunk, which is right up my alley!
Our group of bloggers was each sent the dresser and gift cards to Menards to buy all of our supplies. Here's what I used:
– 16ft. each of pine lattice, screen moulding, and outside corner trim
– 24in. length of 1×4
– canvas drop cloth
– 1in. roofing nails
– spray adhesive
– oil-rubbed bronze spray paint
– copper metallic glaze
– copper pipe straps
– a leather belt
Creating my version of the inspiration piece meant deviating quite a bit from the assembly instructions from the start. To begin with, I traced each of the dresser's external pieces (top, sides, and drawer fronts) onto the canvas dropcloth, and decoupaged the canvas to the wood pieces with spray adhesive before assembling and painting them.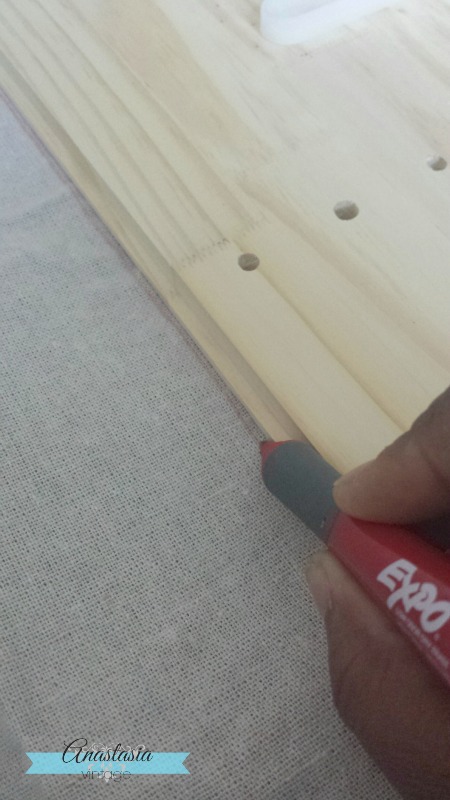 For this round of hacks, we were challenged to use Pittsburgh Paints' new Door, Trim & Furniture Paint for our makeovers – I chose the color Deepest Black. It took a bit of adjustment using an alkyd/oil-based gel paint, as I typically use water-based products. Like other oil-based paints, it should be used in a well-ventilated space and requires a longer drying time. But I loved the rich, deep finish it gave, even when painted on canvas.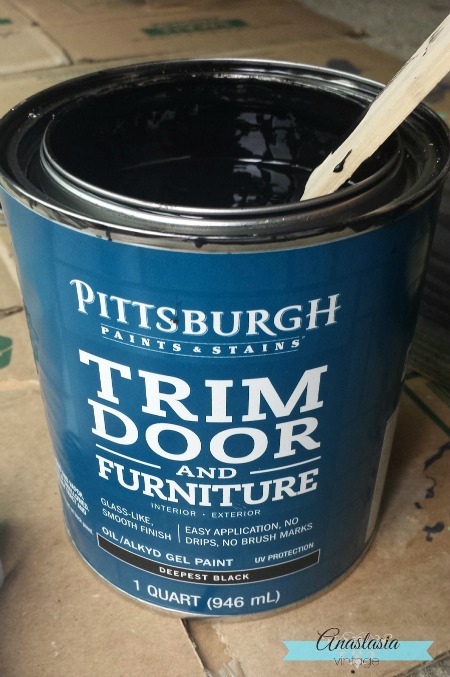 Next, I cut and painted all of the lattice, screen moulding, and outer corner trim to size to mimic the metal strapping on the inspiration piece. The chunky bail pulls I chose from Hickory Hardware really set off the modern rustic look.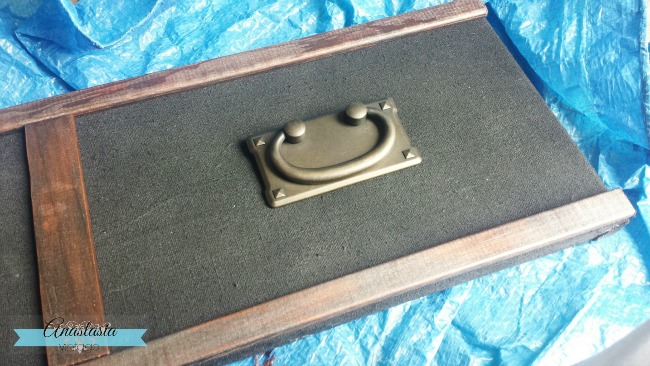 Lastly, I added a few finishing details – leather handles made from a thrift store belt and secured with pipe straps that I painted and distressed, a key hole escutcheon courtesy of Hickory Hardware, and roofing nails to complete the trim.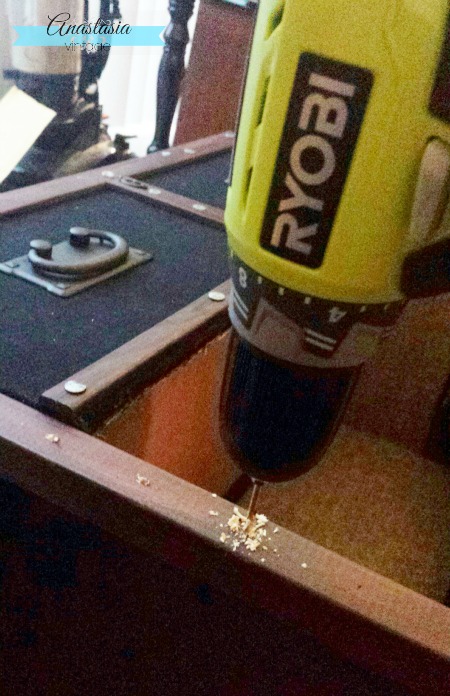 And here it is!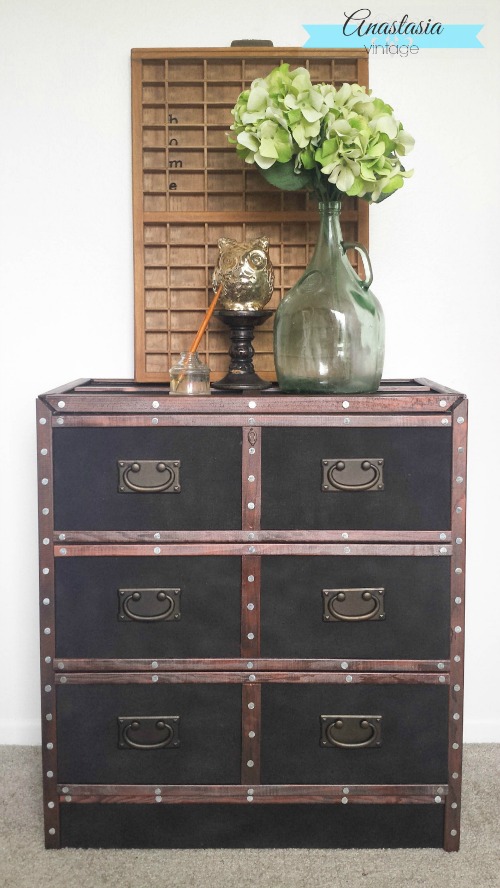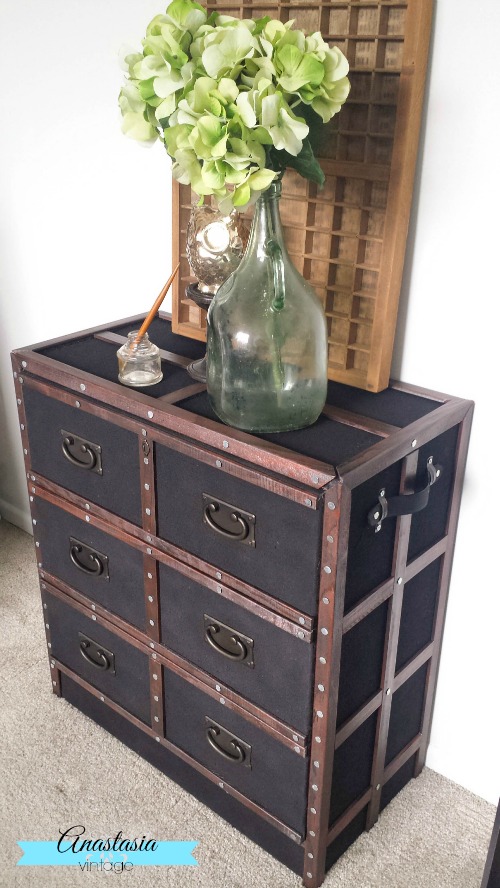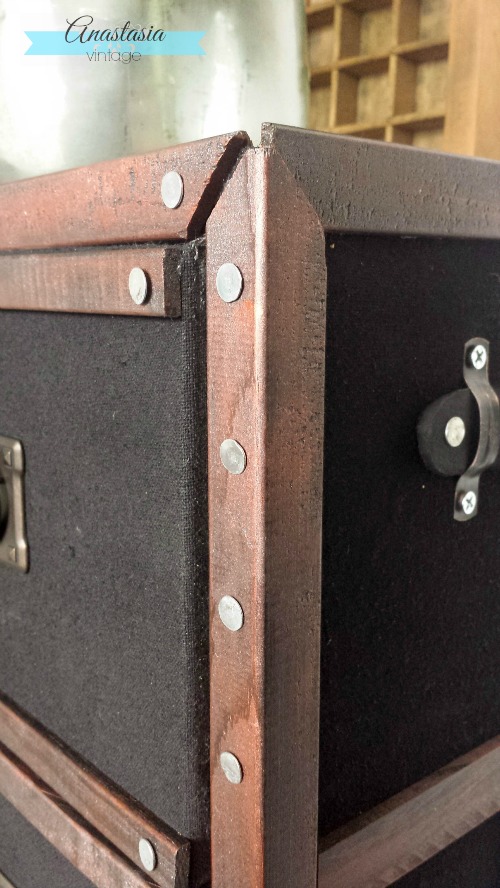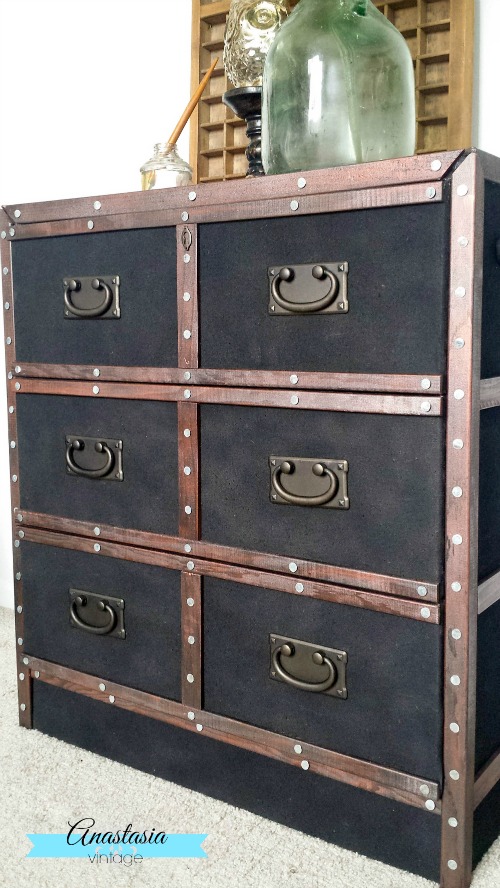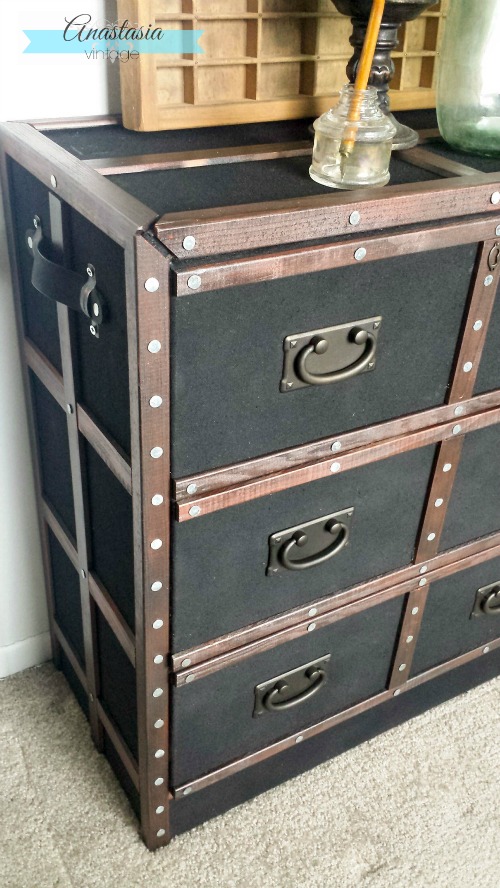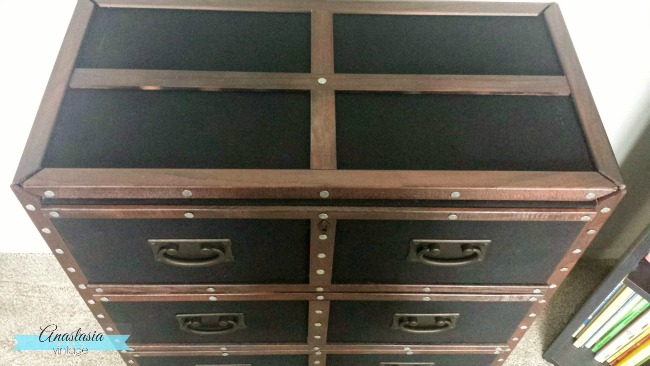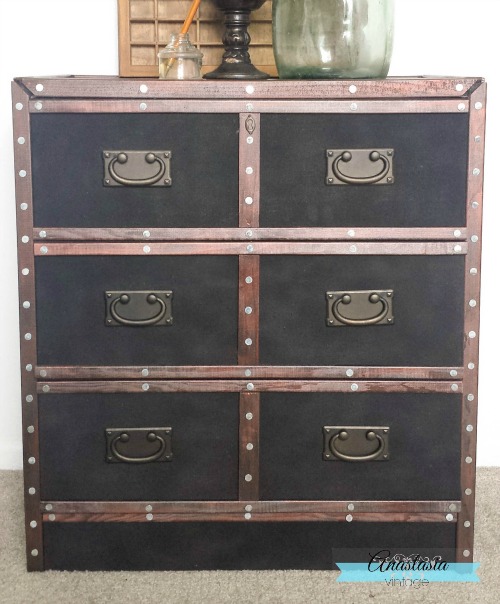 You guys, I'm pleased as punch with this one. My building skills are a work in progress to say the least, and I'm just so happy as was able to execute the whole piece without chopping off a finger 🙂
Be sure to check out the other IKEA Rast Hacks here! If you could also cast your vote for mine, I would appreciate it so much!
UPDATE: Ours was the top voted hack! Thanks so much to everyone who voted – we really appreciate your support!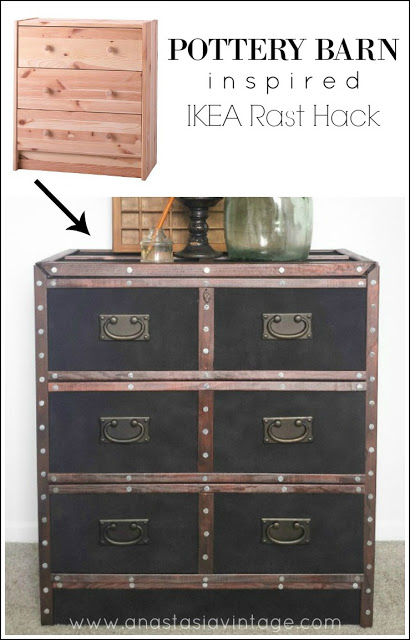 More dresser makeovers: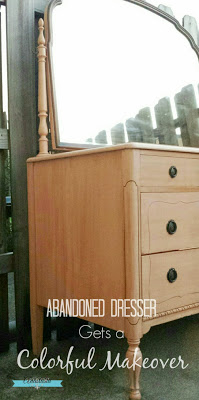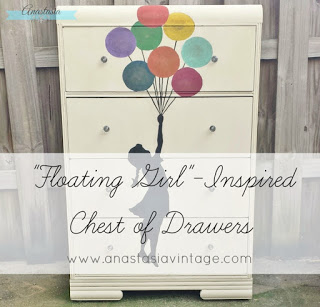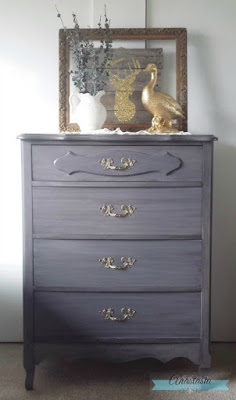 ---
If you enjoyed this post, we'd love to connect with you! Find us on:
---
Shared at these wonderful link parties!
This post appeared first on Anastasia Vintage (www.anastasiavintage.com)