Disclosure: For this post, I've used products left over from various months of The Fab Furniture Flippin' Contest and other sponsored opportunities. However, this post is not sponsored by Unicorn SPiT, D. Lawless Hardware, CeCe Caldwell's or Pittsburgh Paints.
You may remember this project from a few months ago – I did it with a homemade chalky paint and a colorful stain and glaze product called Unicorn SPiT. Well today's watercolor beauty is brought to you by that same product, used in a totally different way. I'm excited for you to see it!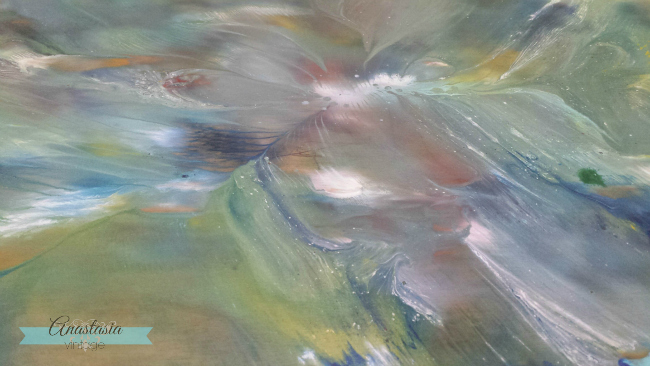 I found this desk for free several months ago via Craigslist. At the time, we were in the midst of updating some of our furniture, swapping out my grad school stuff for pieces that were a bit more adult. This wooden desk was the perfect replacement for my metal and MDF desk from Staples. I knew I'd get around to painting it at some point, but I was happy to let it sit in our office until then.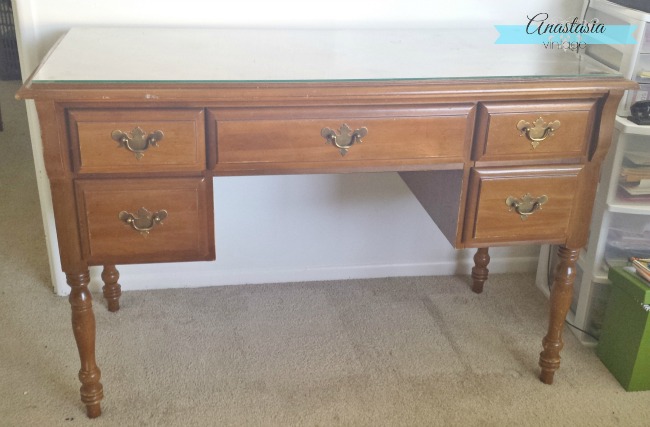 Fast forward a few months, when I saw another desk in a local Facebook group that was even better. I initially wanted to paint it, but when I saw it in person, I fell in love and we decided to keep it. Which meant the freebie had to go. Thus is the circle of life 🙂
I initially wanted to stain the top in a dark wood tone and paint the rest, so I sanded the top down thoroughly with my palm sander. Unfortunately, someone had at some point scrawled something across the top that, even with round after round of sanding, wouldn't budge. Time for plan B.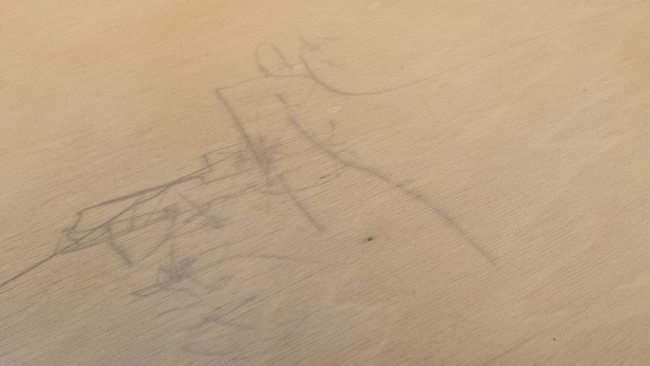 I decided to take a stab at one of the techniques developed by the creator of Unicorn SPiT, Michelle. She is always inventing new ways to use it to get all kinds of cool effects. The technique I used is called a stain press. Here's what you'll need: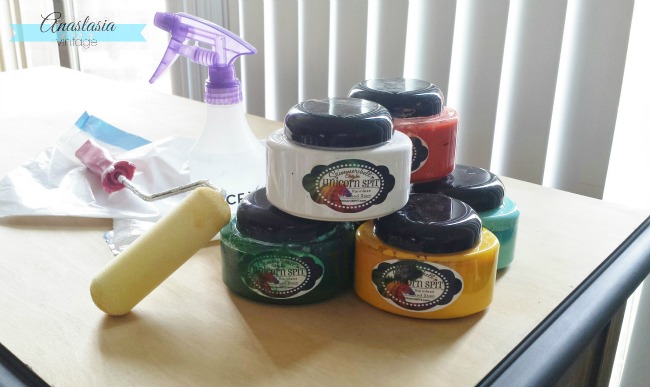 – a syringe
– a spray bottle of water
– a plastic sheet*
– a foam roller
– your colors of choice (I used White Ning, Lemon Kiss, Blue Thunder, Zia Teal, Dragonsbelly and Phoenix Fire)
*Michelle uses a dropcloth, but I didn't have one so I used a garbage bag cut open into one large sheet
Believe me when I tell you, this is one of those techniques that's a lot easier to grasp by watching instead of reading about it. If only there was a video…
Oh wait, there is! 😀
I followed these steps (more or less), then let my stain press dry overnight. I used 400 grit sandpaper to sand down any rough or extra thick spots before sealing with polyurethane.
Here's a sneak peek 🙂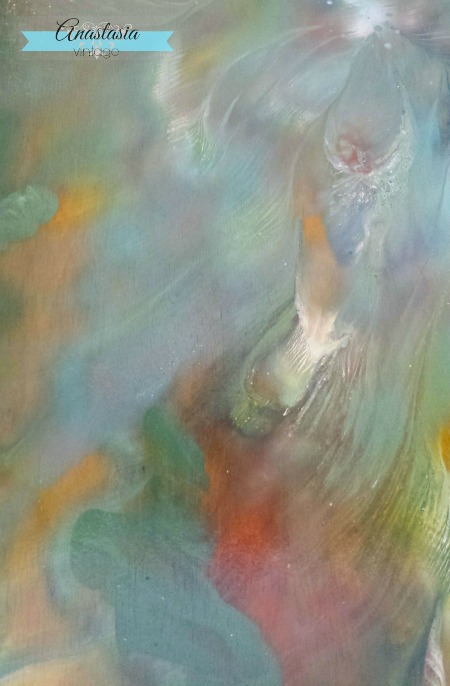 The rest of the desk was painted in an oil-based furniture paint in black. Look familiar? It should – it's the same paint I used for my IKEA hack 🙂 No topcoat required – yay!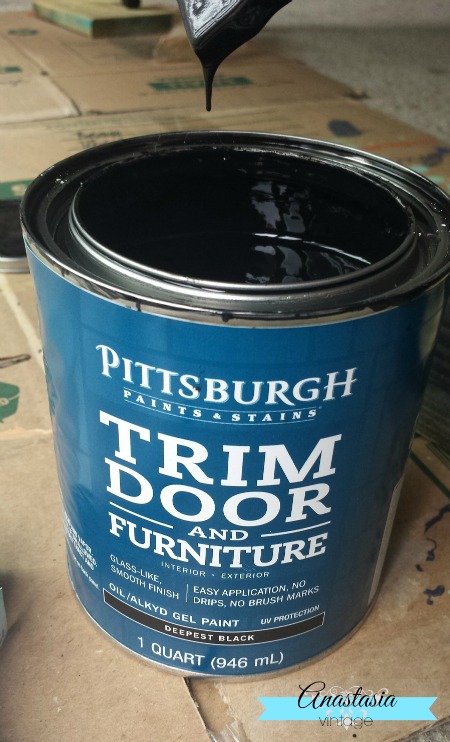 The insides and outsides of the drawers were stained with CeCe Caldwell's Stain+Finish. I especially like that I can use it indoors and it also doesn't need a separate topcoat. Easy peasy.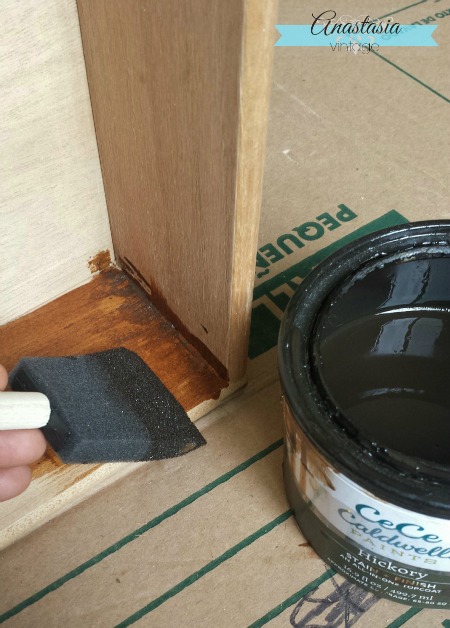 Finally, I finished the piece off with a set of finger tab pulls from D. Lawless Hardware that I spray painted gold. (I would have just ordered them from D. Lawless in brass, but I had a very different project in mind when I ordered months ago).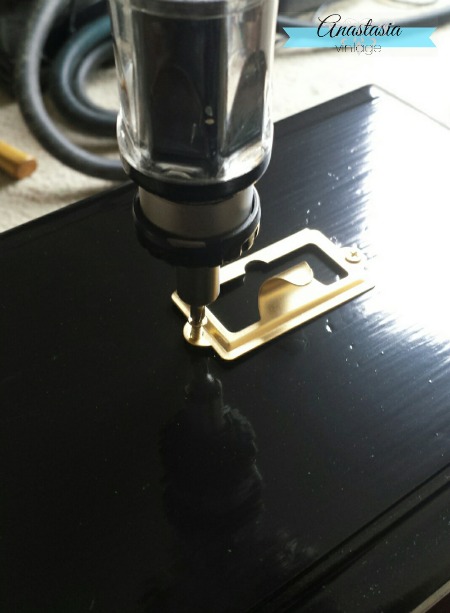 Here's how it all came together!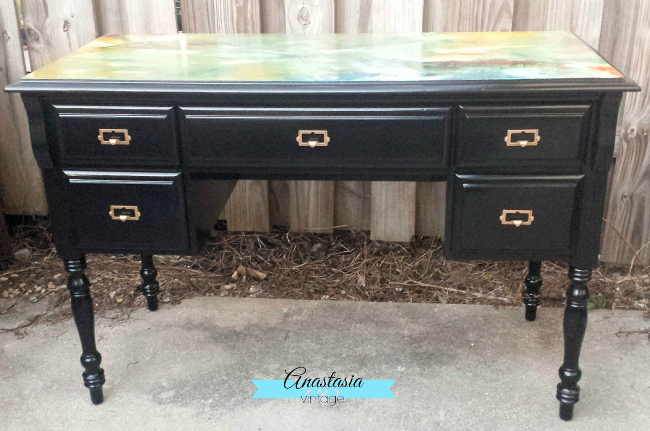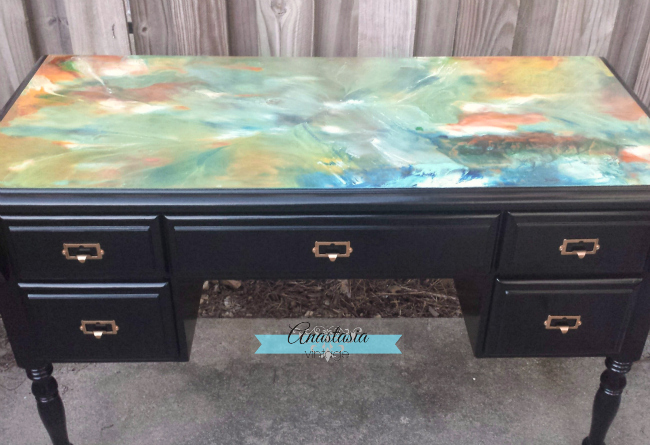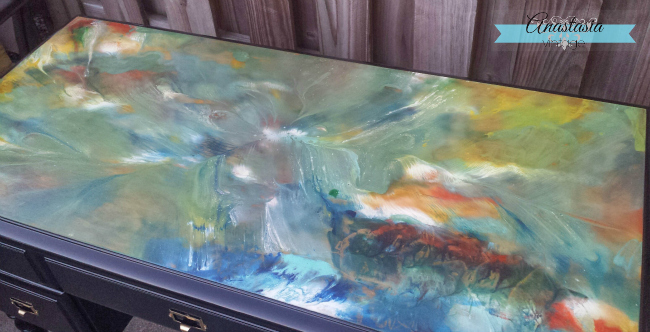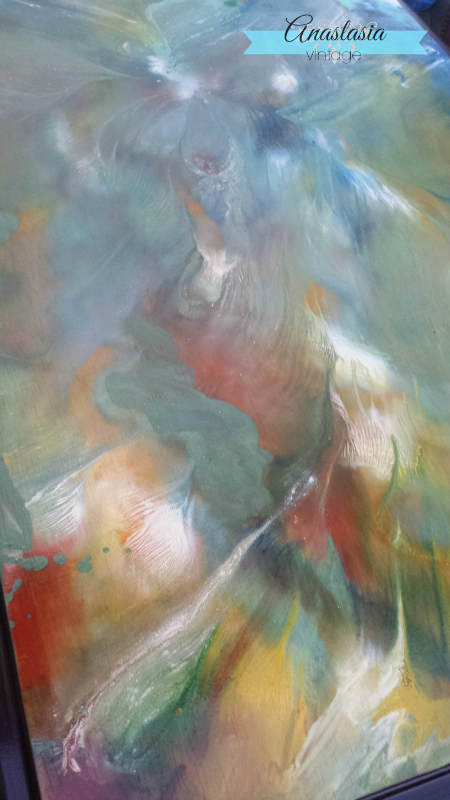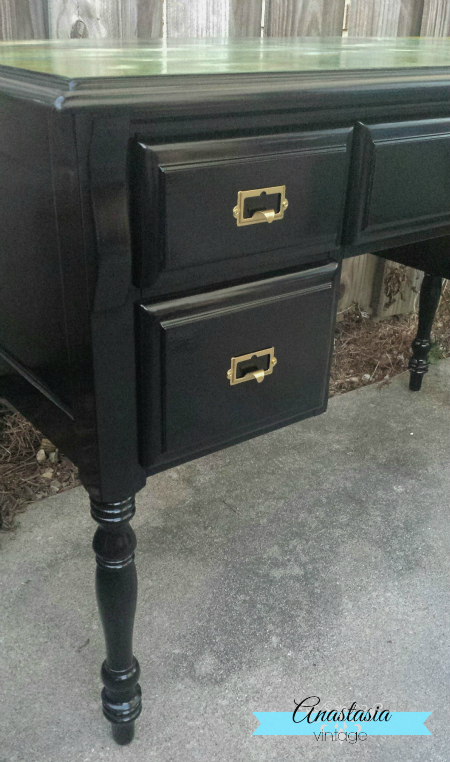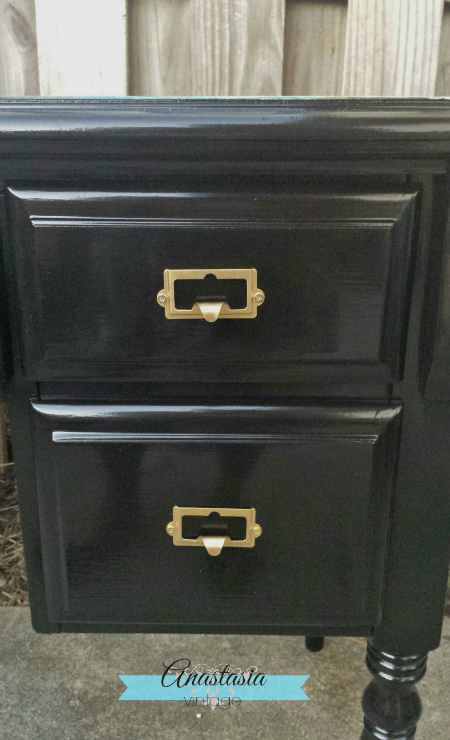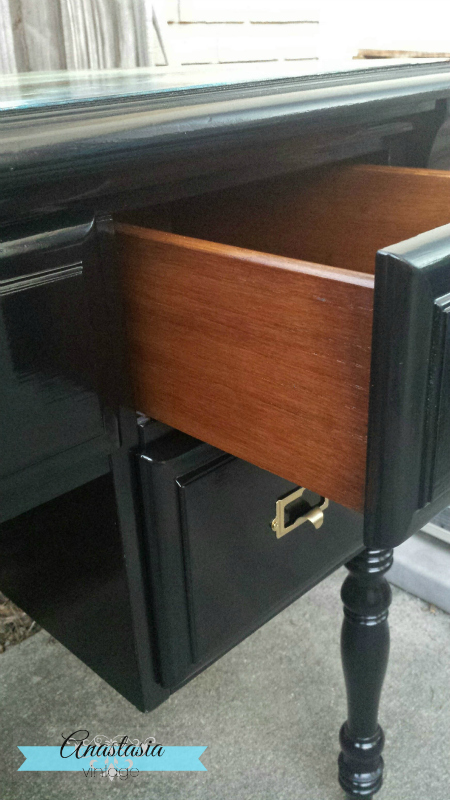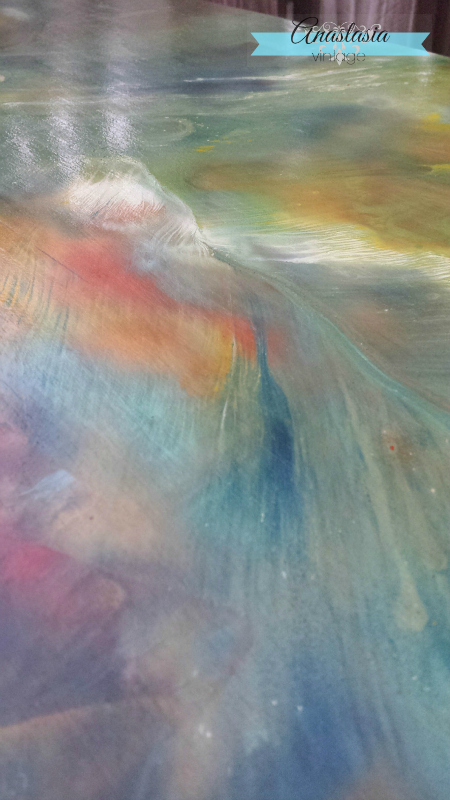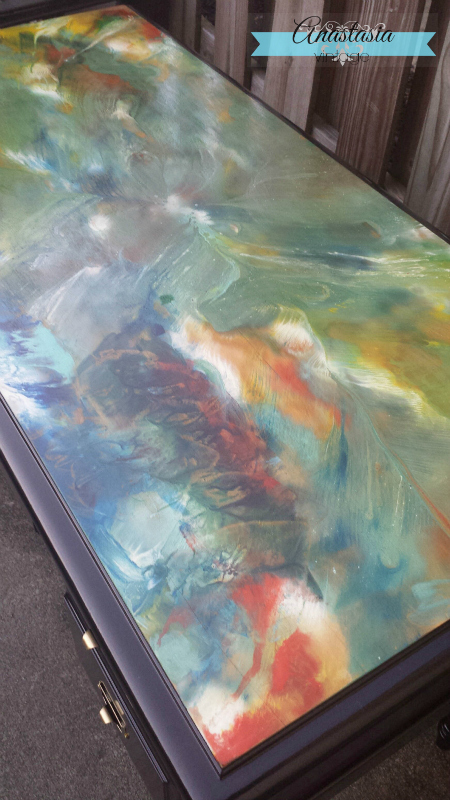 It's not what I envisioned when I first started, but I'm glad I tried something new! The glossy black makes for a classic, laquered look, while the watercolor top gives it a whole new and interesting pop. And best of all, there's no sign of the cat-scratch that was once left in the wood 🙂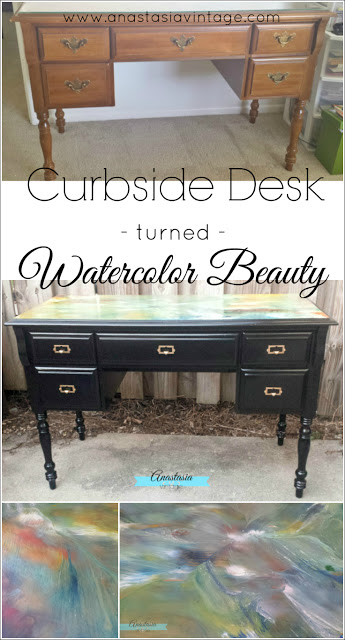 More pretty pops of color!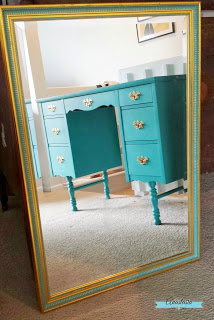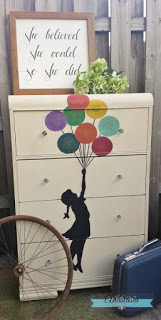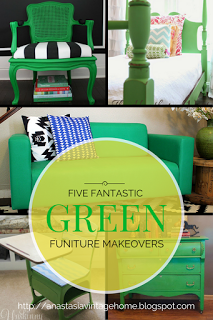 ---
If you enjoyed this post, we'd love to connect with you! Find us on:
---
Shared at these wonderful link parties!
This post appeared first on Anastasia Vintage (www.anastasiavintage.com)