Hi all! It's been a long time since I've shared a new project with you – it's only for a lack of time, and not for a lack of pieces I've been churning out! Thankfully, I completed a makeover a few weeks ago that was just perfect for today's Themed Furniture Makeover Day, and I can't wait to share it with you!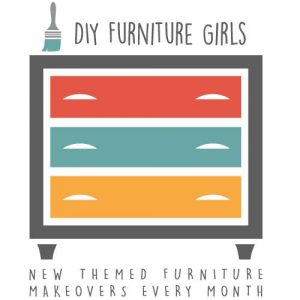 This month is all about Glitz & Glamor, and this little vanity has it in spades!
It all began with a discarded mini vanity/dresser I found while driving through a nearby neighborhood. I was actually there to do some picking at another home, but got lost and found this gem instead!
As cute as it was, the top was badly stained, and layers of old paint were flaking off. I'll be honest – it was kinda gross, but I sucked it up and loaded it into my car.
I don't have a full tutorial for this project (see aforementioned lack of time), so you'll use your imagination to fill in the blanks. But I won't leave you completely hanging – here's the basic process 🙂
After stripping the whole piece, I gave it a base coat of General Finishes Milk Paint in Linen. On the mirror and drawers, I decoupaged some French-themed floral napkins with Mod Podge, and I stained the top with a few coats of General Finishes Gel Stain in Antique Walnut. Lastly, I glazed the body of the piece with General Finishes Pearl Effects Glaze in Burnished, and sealed the whole thing with High Performance Topcoat.
The original pulls got a good cleaning and a few coats of gold spray paint, and she was all done!
I love the way the feminine floral napkins are featured front and center, while the gold glazing adds just touch of shimmer!
There are many more glitzy gems from our talented team that are sure to dazzle you this month! Check them out below!
This post appeared first on Anastasia Vintage (www.anastasiavintage.com)