If you're anything like me, you have some special keepsakes that might be practically worthless to someone else but are priceless to you because of the memories attached to the items. My grandmother's cheap little tea kettle is one such keepsake for me.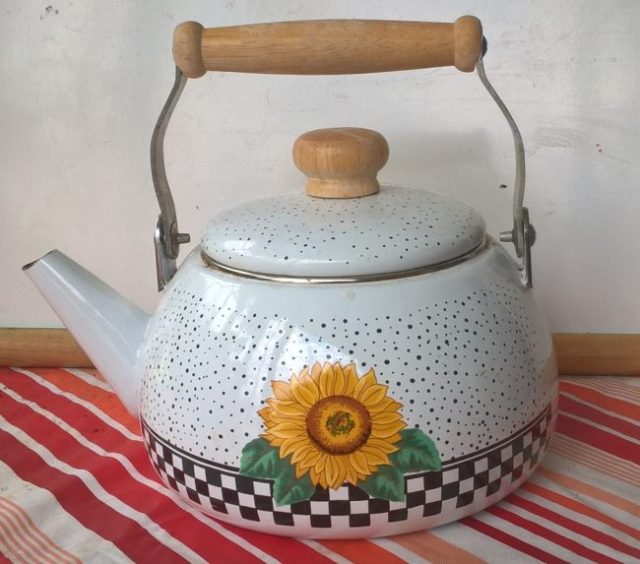 At first glance, it is a cheery but inexpensive piece of decorative metal in a world that rarely uses such "old-fashioned" kitchenware like teakettles in this time of microwaves, espresso machines, and coffee makers. However, this cute little pot holds great memories for me. My precious grandmother relocated to the city I lived in when I was a young teenager, and I spent quite a few years in her kitchen and sitting at her dining room table with this teakettle in view. Strange enough, she didn't really use it either – she just liked how it looked sitting on her stovetop. Fast forward 15 years or so…my Grandmother passed away, I moved across the country to New Orleans, and Hurricane Katrina struck. I became a "Katrina refugee" and needed to remain down South for a variety of reasons – even though I lost many of my belongings along with my home. My Mother quickly got a care package in the mail, and knowing my sentimental soul, she stuck in my Grandmother's old teakettle to give me a sense of connection to family and home. And that's exactly what it did…I continued carting it around with me from pillar to post – from friend's homes to hotels to apartments and finally, back to New Orleans.
That is one very valuable keepsake in my book, and one that I cannot bear to get rid of. However, I have neither a need for a teakettle nor space on my stovetop for something merely sentimental with no practical use. Not only that, but I have also been reluctantly and ever-so-slowly embracing the "minimalist" trend and "living small". So…what's a gal to do? I have a special but practically worthless teakettle on my hands that I can't get rid of or use.
DON'T MISS: White & Burlap Upholstered Chair
Whenever you find yourself in such a conundrum, it's time to brainstorm while honoring both sides of the equation – the practicality and the sentimentality. It's time come up with an idea that can do both…it's time to re-purpose! While I have no need of a teakettle, I do need (and want!) indoor houseplants to purify the air and provide all the aesthetic benefits they can offer. And what better use for a precious memento that connects my present day life to the Grandmother I love and miss dearly.
This bright sunflower teapot makes an absolutely perfect pot for a useful, practical, and beautiful houseplant! It is really quite easy to use it as such and costs little-to-nothing to do so. Here are the simple steps for transitioning it from a teakettle to the dwelling spot of my favorite pathos houseplant.
If you need to prioritize speed over all else, simply purchase a 6-inch plant from the nearest greenhouse, stick in it the teakettle, and call it a day. However, a mere half hour to spare will turn this kettle into a cozy home for a golden pathos (or any other hardy houseplant), so let's get started…
Step #1 – Place a 1- or 2-inch deep layer of small rocks or pebbles on the bottom of the kettle. This will keep the roots of your plant from sitting in water each time you water the plant (which isn't healthy for your plant).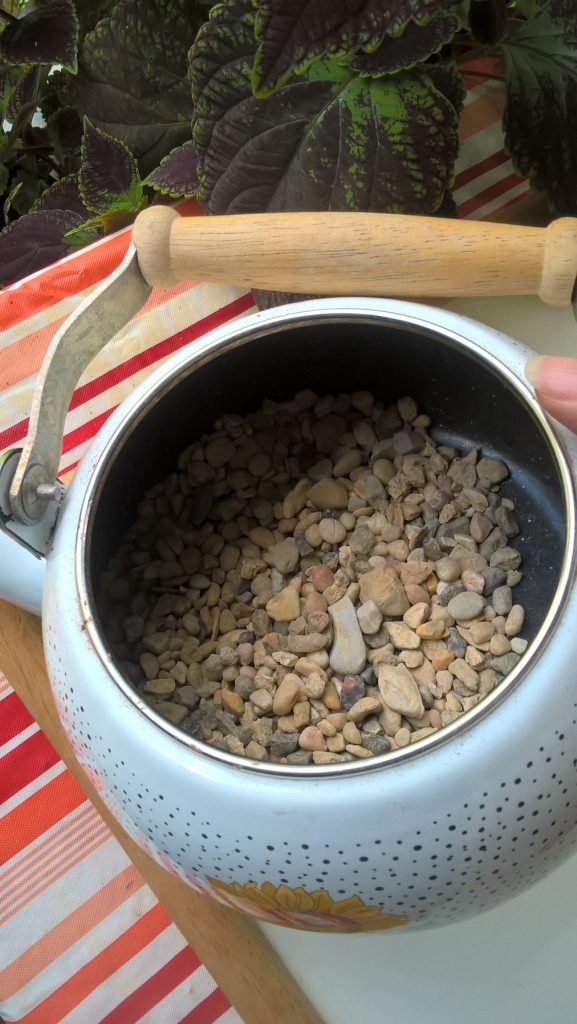 Step #2 – Cover the rocks with a thin layer of dirt, sprinkle one tablespoon of Epsom salts over the dirt, then cover the salt with another thin layer of dirt. The Epsom salts will fertilize the plant while also helping it recover from the shock of planting. The second thin layer of dirt keeps the salt from touching the roots of the plant directly which can burn or damage them.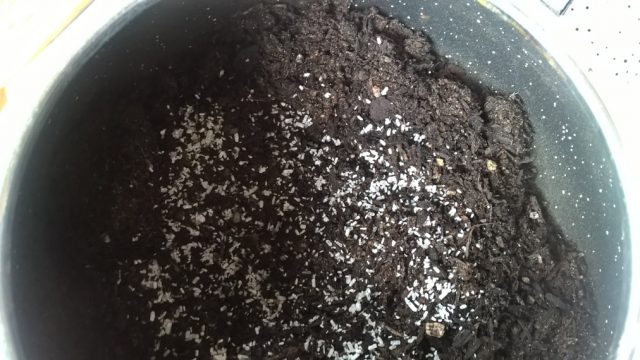 Step #3 – Purchase a new plant or re-purpose one you already have on hand that is big enough to fill the teakettle. Make sure the plant is healthy and thoroughly watered before transferring it to the kettle.
Step #4 – Add potting soil on all sides of the plant once it's placed in the kettle. Fill the kettle loosely, and then gently press down the soil in order to about an inch free below the rim of the kettle. This allows water and fertilizer to be added easily without spilling over the sides. I usually use moisture-control potting soil for my indoor plants because it makes it easier to maintain the moisture levels according to the needs of each plant.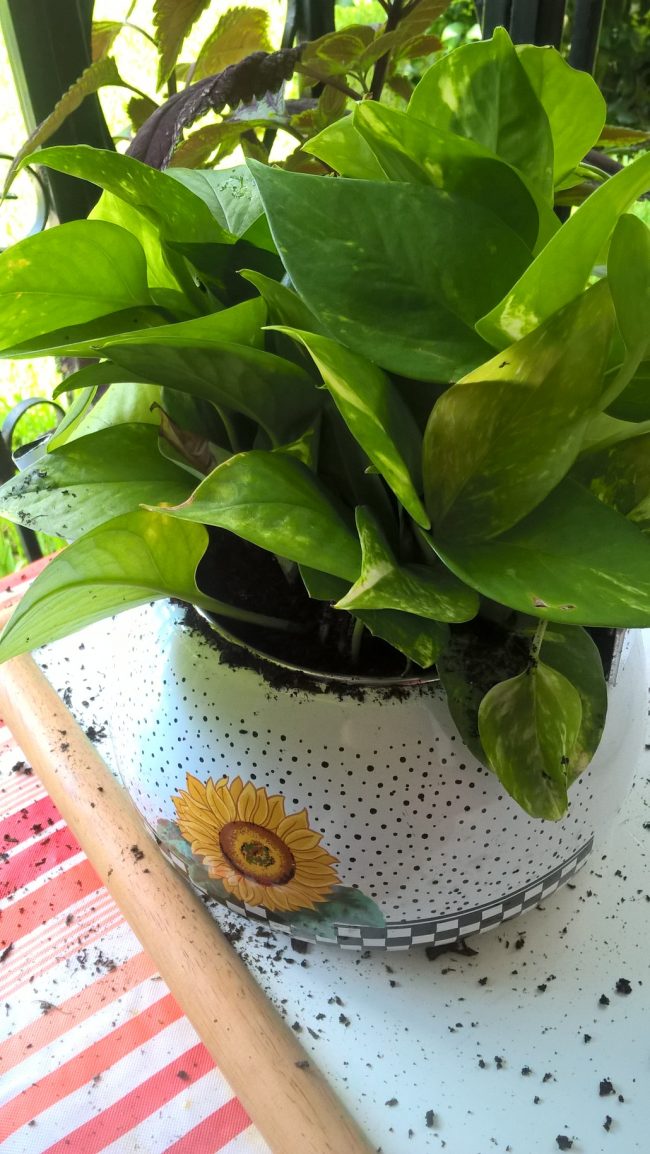 Step #5 – My Grandmother's kettle still had its lid, and I couldn't bear the thought of just throwing that out either, so I decided to make it a visible part of the decor. All it took was a piece of a plastic hanger (you can use a stick, a piece of metal, even an old piece of silverware) stuck in the soil in the back of the plant. I just hung the lid off the plastic stick to keep it visible without requiring any additional space. Extra fertilizer sticks can be stored inside the lid to be handy whenever the plant needs a burst of nutrients.
Step #6 – Water lightly and find the perfect place in your home for the sentimental and now useful keepsake. Since the plant I used had been growing outside, I left my teakettle plant outside for a few days to acclimate to its new home before bringing inside.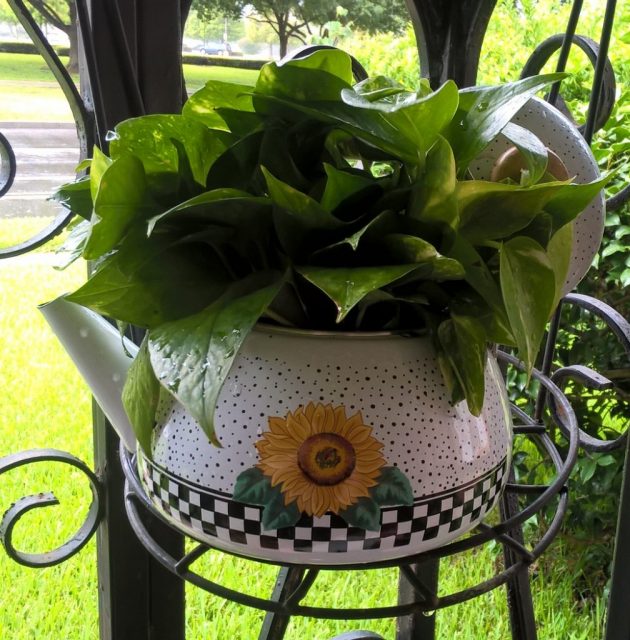 The re-purposing process can be utilized over and over whenever you need to find a place in your home for something that is extra special but takes up space without serving a practical purpose. You might be surprised with all the ways you can come up with for re-purposing an item when brainstorming for both practical and sentimental reasons!