I might as well admit it…I'm a bit of a craft hoarder. But I'm not just your average, every-day craft hoarder saving up normal crafting supplies. Oh, no – I've got to save anything that might…some day…sooner or later…perhaps…be used for some creative project. I am one of the generation of recyclers and upcyclers. I hate throwing away anything if there might possibly be some way to either save it from a landfill or use it to save money with a variety of projects. So…plain old lightbulbs are among all of the different things I hoard…errrr…save! And am I ever glad I was savvy enough to start saving them before I technically had a use for them, because don't they make adorable ornaments?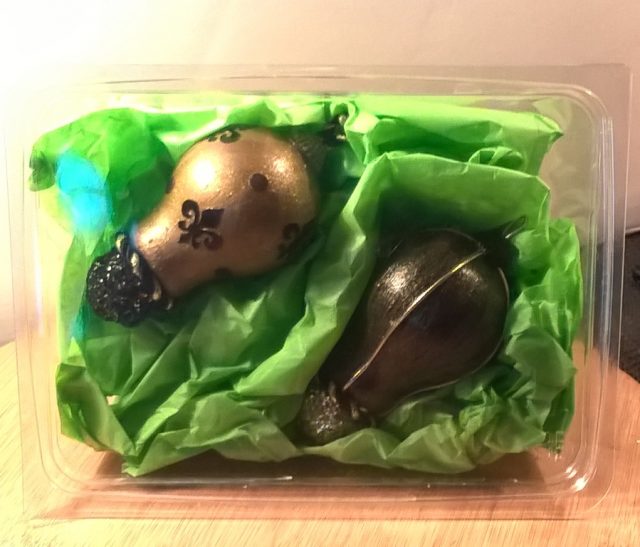 I will provide instructions for making the black and gold ornaments in a moment, but I have made a variety of these for different occasions including Christmas and birthdays. They are all based on the premise of the regular lightbulbs being shaped similar to a hot air balloons. Take a closer look at these "blank" ones…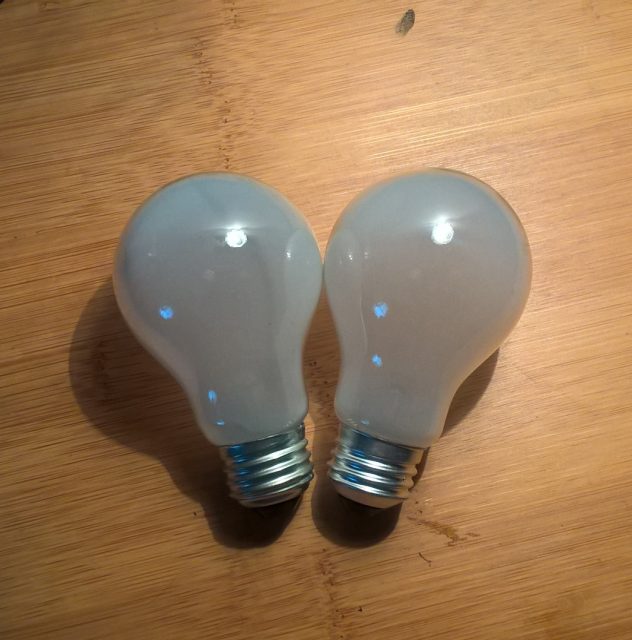 See how the part with the screw threads is just the perfect placement of a hot air balloon basket? The "balloon" part is clearly evident and the proportion is great too. These ornaments can be made as a set or just a single ornament, and of course, they can be created in any color combination under the sun – just like regular hot air balloons. In fact, I made a set of six of these for a friend of mine who adores hot air balloons, and I patterned them off of pictures of real hot air balloons. I wish I had taken pictures of them, but they made a very special gift for a friend who feel in love with them at first sight!
But back to the featured ornaments of this post…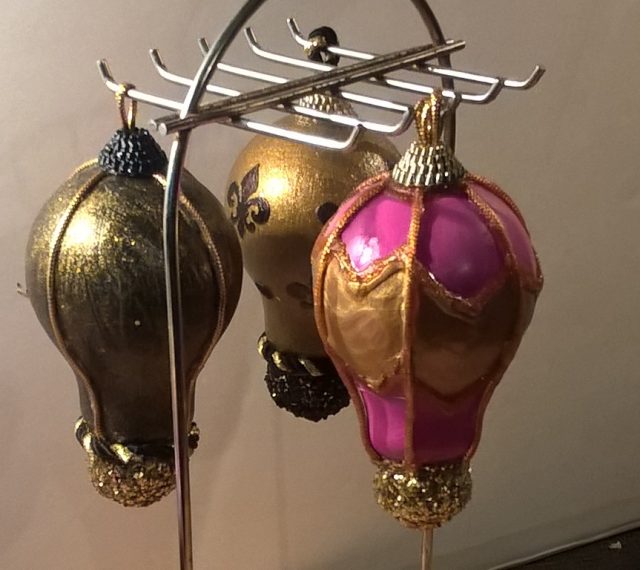 The pink and gold ornament pictured is actually the first one I ever made, and definitely far from perfect – but it will hopefully help spark your own creative genius in terms of color options and possibilities! As far as my black and gold beauties go, I live in Louisiana which happens to be in the heart of Saints football country. Now, I am not much of a football fan per se, however, I am a fan of my community. And since my community loves the Saints with their black-and-gold with fleur de lis theme, so do I! These particular ornaments will make an awesome gift for that friend of mine whose family lives and breathes everything football and Saints related, so here are the nitty-gritty details about how to make them for yourself.
Supply List:
2 lightbulbs
2 clamps
Permanent marker
black paint
gold paint
small paintbrushes
fan (optional)
gold glitter transparent paint
2 hanging brackets
gold braid trim
black and gold braid trim
black fleur de lis cutouts
black dots
hot glue gun
large-flake gold glitter
rubber cement
hairspray
clear plastic carton with tissue paper (optional)
Step #1 – Place lightbulbs in clamps. These nifty crafting tools can be found at the dollar store at the great price of 2/$1. They sure make handling these bulbs a lot easier when trying to paint, etc.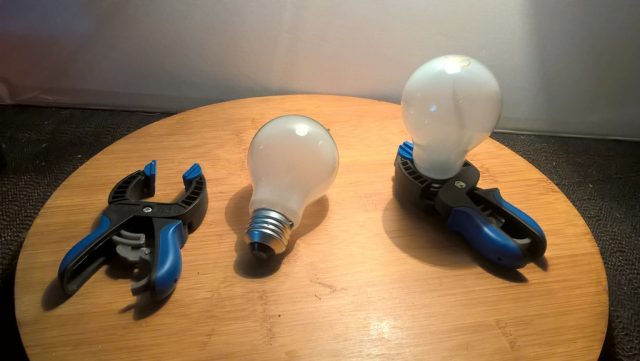 Step #2 – Use a permanent marker to place a dot in the top center of the lightbulbs. I learned to do this the hard way…it is much more difficult to place the hanger in the right place at the top of the bulb if it has been painted over completely. I made more than one lop-sided ornament until I started using that easy step.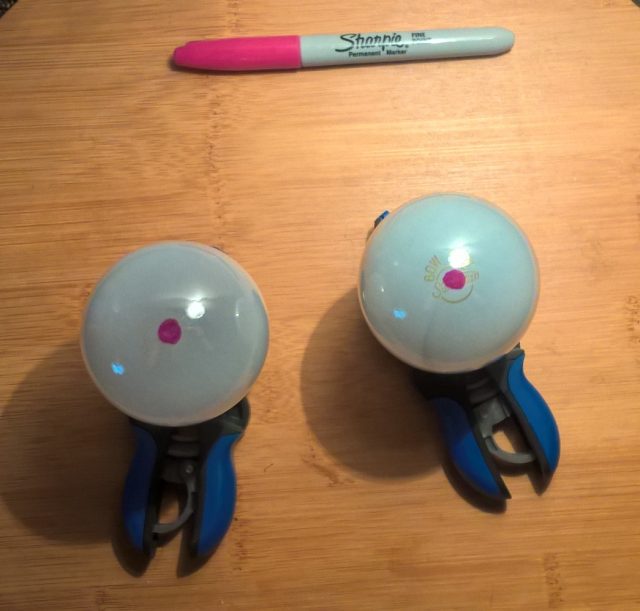 Step #3 – Paint the white portion of each bulb…one with black paint and one with gold paint. As for the type of paints to use, that is very flexible. Most of the time I use either poster paints or inexpensive craft paints for a couple of reasons…one, they are inexpensive, and two, they don't have fumes like enamel and acrylic paints can. They are also quite forgiving because drips and spills are easily cleaned up and it is easy to wash them off and start all over if necessary – ha! Another great feature of these kinds of paints is they dry quickly just sitting in rough air, but the drying process is even shorter when placed in front of a fan to dry.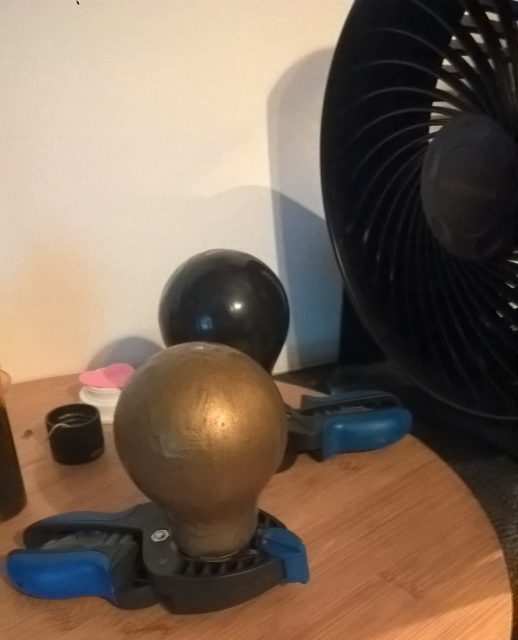 Step #4 – Once lightbulbs are completely dry, paint both bulbs with gold glitter transparent paint. This kind of paint looks like white glue with glitter when it is first applied, but once dry, all that remains is a transparent layer of gold shimmer that provides a great unifying effect for the black bulb along with the gold bulb.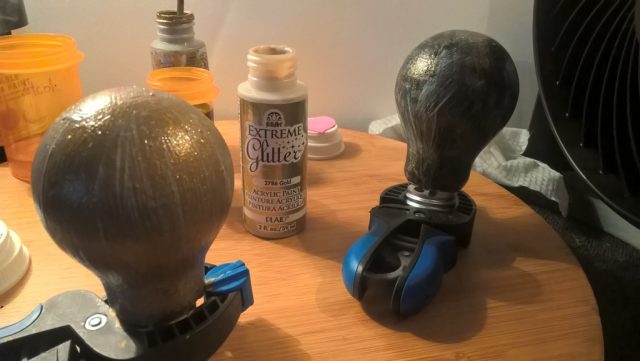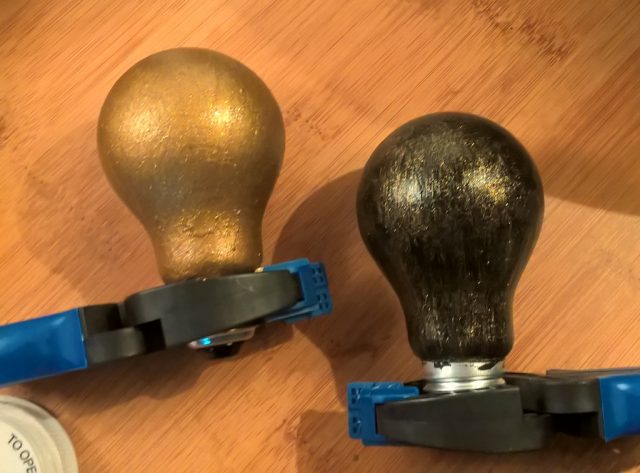 Step #5 – Now it is time to trim and embellish, starting with the top hanging bracket. I am sure I could find these little gold pieces by themselves if I looked hard enough, but I had these gold and red bells that used them to hang from. I needed the bells for another project, but I needed them without the gold "hat" on each one. That worked out perfectly, because now I have a need for such "hats" to use as the hanging bracket for these ornaments. I painted one black for the black ornament and left one gold for the gold ornament.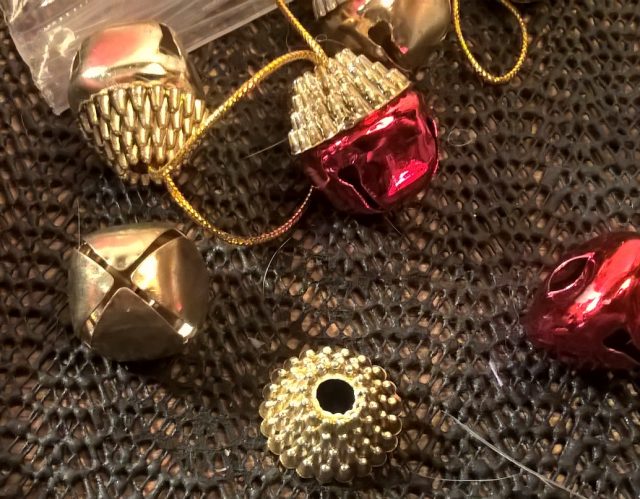 Step #6 – Bulb embellishment for the black ornament…I chose simple gold braid trim to mimic the cording on real hot air balloons. I cut 2 pieces of cord approximately 12 in. long. Glue one section up and down on the bulb as pictured.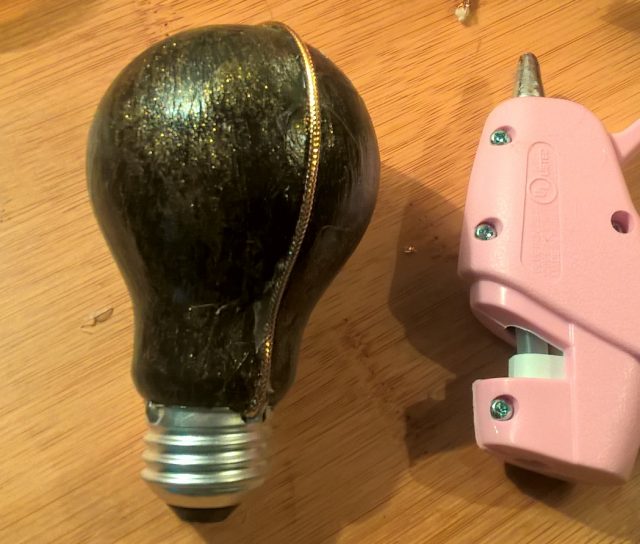 Tie a knot with a loop in the middle of one piece of trim, then glue the knot itself to the permanent marker dot in the center of the top of the bulb. You can glue the hanging bracket on the gold trim knot before it's glued to the bulb or after – either method works just fine.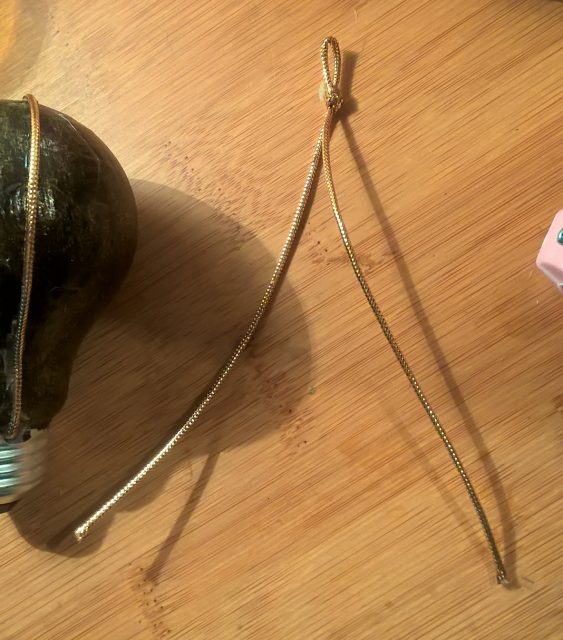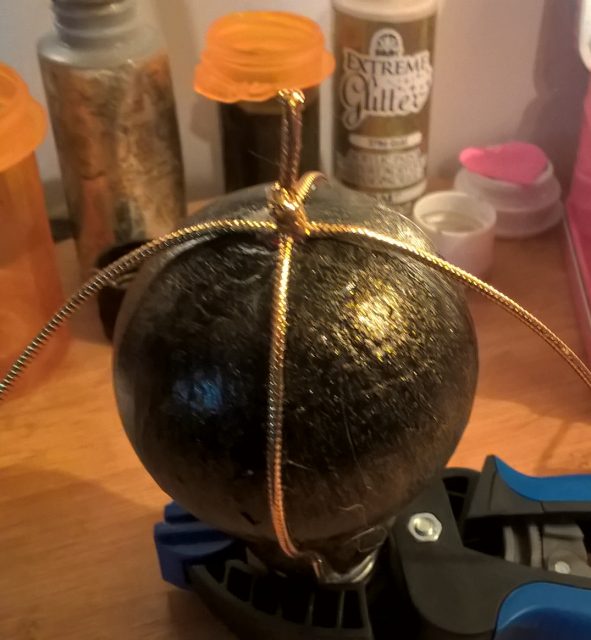 Step #7 – Bulb embellishment for the gold ornament…I decided to glue on black fleur de lis cutouts and black dots. I have a fleur de lis paper punch, so it was quite easy just to punch out 6+ cutouts from plain black paper. The dots are simply paper hole punchouts from a 3-hole paper punch. However, both items (and many other options) can be found easily on eBay at very low prices.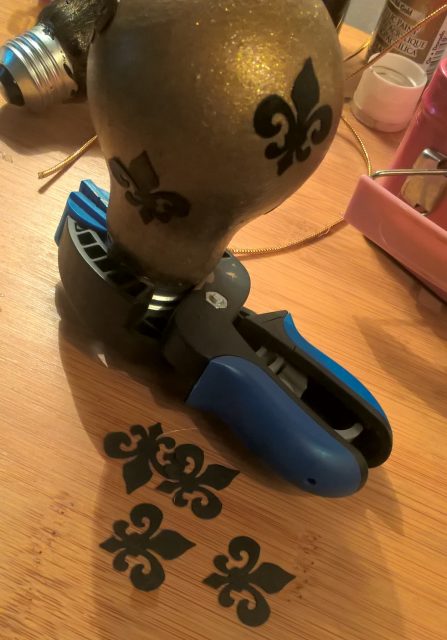 For the top hanging bracket, I glued a small loop of the black and gold braid trim in the bracket before gluing it to the permanent marker dot at the top of the bulb.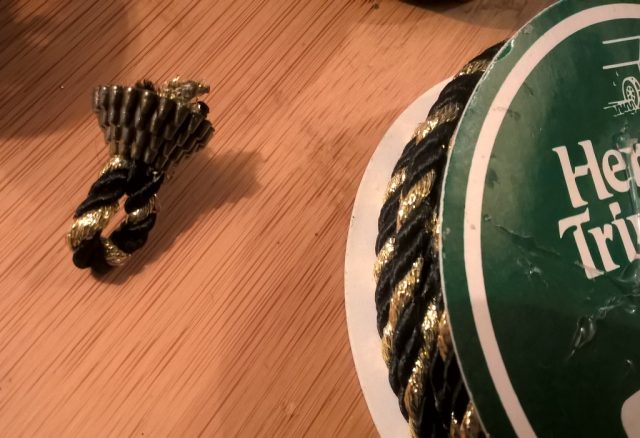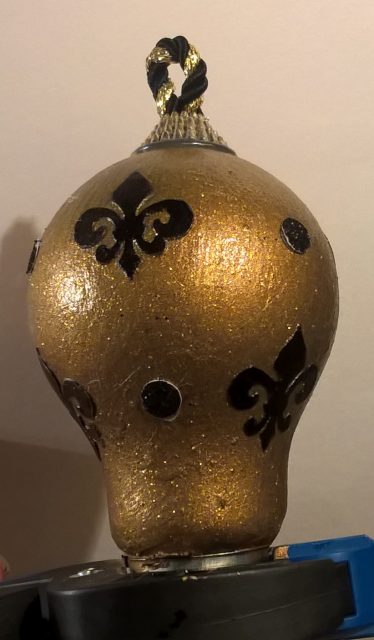 Step #8 – Time to create the "basket" of the hot air balloon ornaments. This is done by painting the threads of each bulb with rubber cement then dipping the wet glue surface into a container of gold glitter.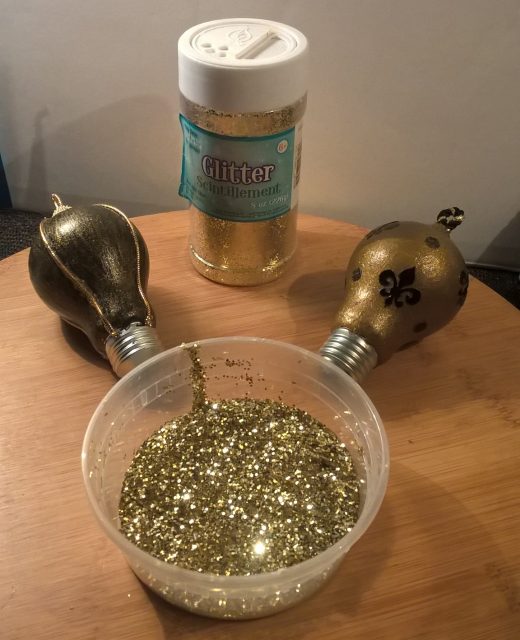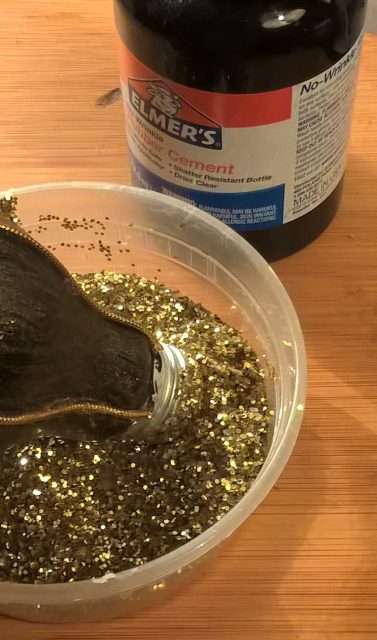 This layer of glitter needs to dry completely, and it works great to place them in front of a fan to dry thoroughly.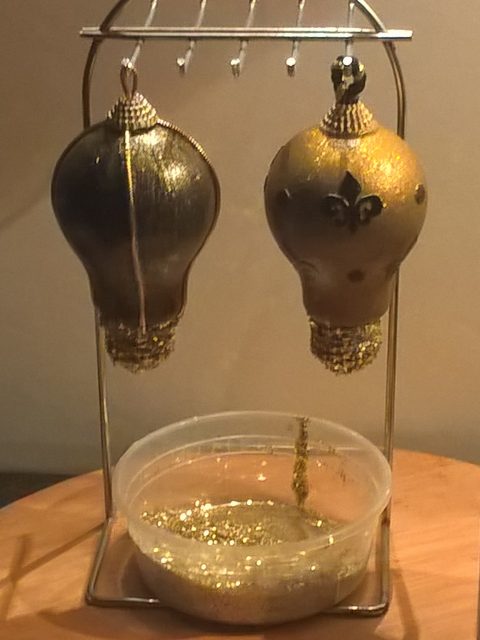 Once completely dry, spray the glittered "baskets" with hair spray, then dip into glitter to add another layer which then needs to dry completely again.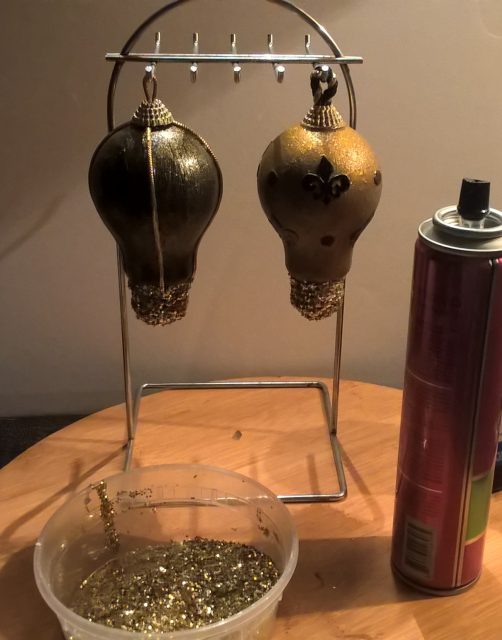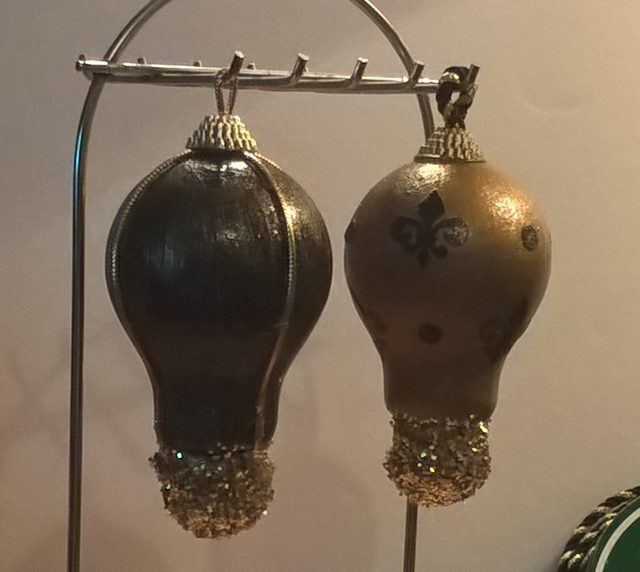 Step #9 – The basket of the black bulb is finished, but the basket of the gold bulb now needs to be dipped into black poster paint to contrast the primarily gold-colored bulb. It only needs to be dipped in black paint for one layer and allowed to dry. This allows the gold glitter to peek through the black just a little bit.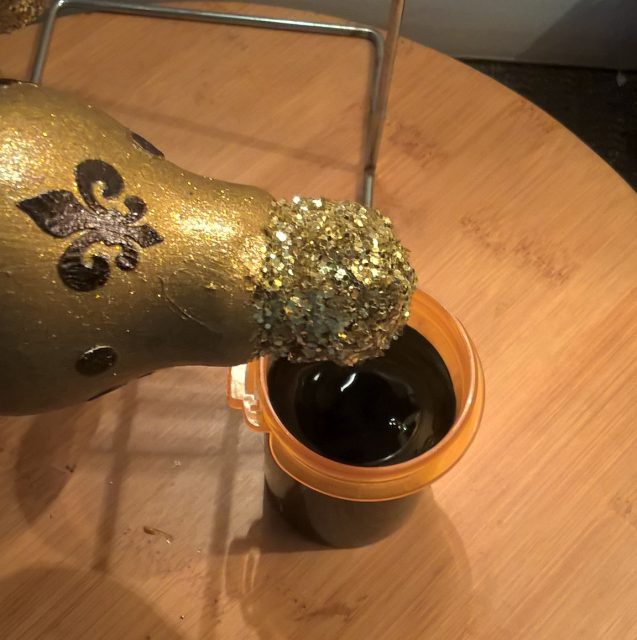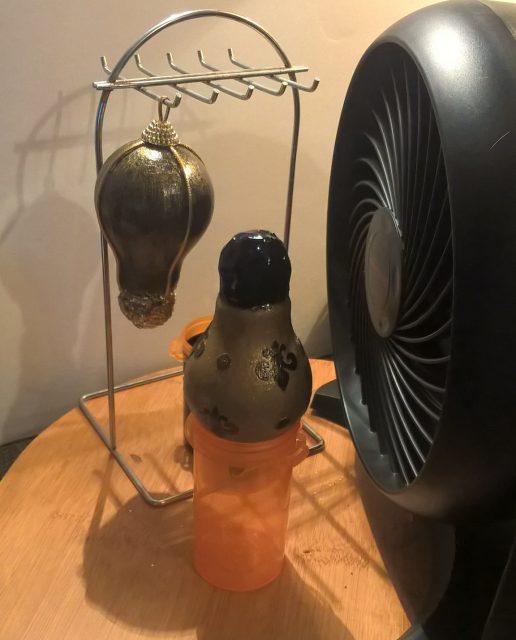 Step #10 – Glue a piece of the black and gold braid trim around the top of each "basket".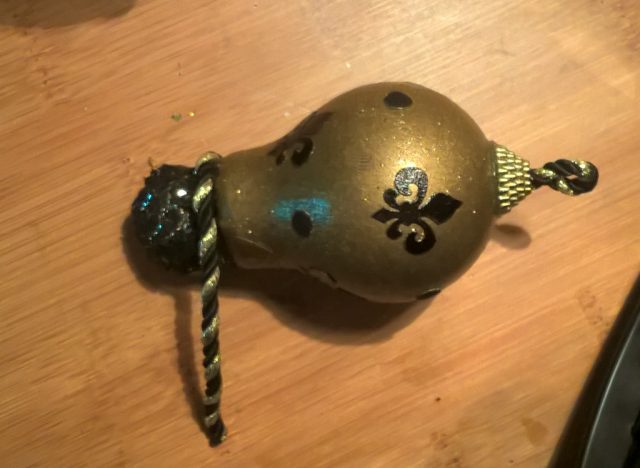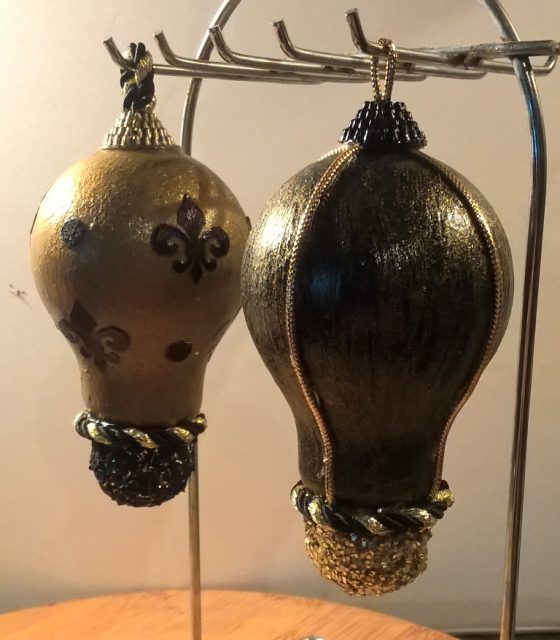 Step #11 – The final step needed to ensure these ornaments can stand the test of time (or whatever else life may throw at them…like water, dust, etc.), spray both ornaments well with a clear coat sealing spray. Make sure you do not use a clear matte spray as this will dull the finish and distort the colors.
Although your collectible ornaments are now complete, you may want to take one additional step if you intend to use them as a gift. They present very well in a plastic carton with any color of tissue inside. I simply wash and remove the labels from empty salad, greens, or lettuce containers from the grocery store and re-use them as pictured. It makes for a very attractive gift presentation…if I do say so myself!
Like this post? Pin it on Pinterest to save for later