I frequently find myself in need of small gifts to give loved ones and friends for a variety of reasons. Whether it's for my neighbor's retirement, my co-worker's cancer diagnosis, Teacher Appreciation Day at my child's school, cheering up someone having a very bad week, or a multitude of other scenarios, I enjoy giving small but thoughtful gifts to show my love, care, and/or appreciation. However, the cost of those "love gifts" can quickly get out of hand. Obviously, I can just decide to quit spending money on such occasions and find other ways to express myself, but I get a lot of pleasure from recognizing such times for the loved ones in my life through heartfelt mementos that will remind them they are loved!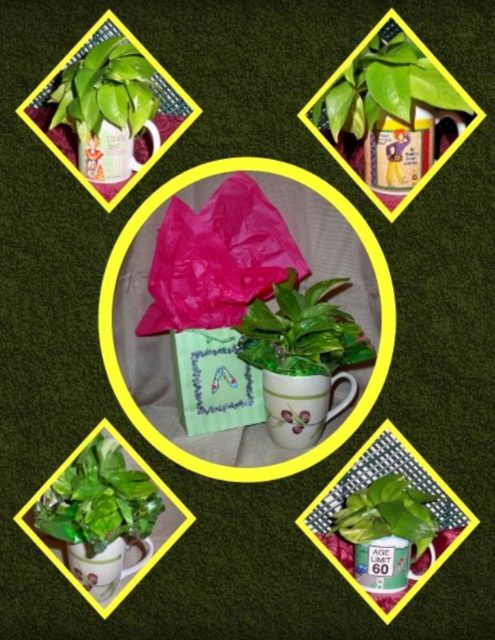 But…I do not have an endless supply of funds to use for such purposes. A few years ago, I reached the conclusion that I needed to put a little more thought (with a little less money) into the situation. I wanted to find something that could be personally unique, practical, useful, and cute – all with as little money invested as possible. After some thought on the matter, I came up with a DIY answer that fits both my budget and my desire to express love to the people in my life. I've used the solution I came up with for many years now, and it is easy to keep supplies on hand in order to be ready whenever needed. It is easily customized according the situation, can cost less than about $2, and never gets old…my well-used solution is Coffee Mug/Koozie Plants!
Disclaimer: When I say it can cost less than $2 a piece to put together these gifts, it is with the understanding that you are growing your own plants to use for the gifts. Certain types of plants work well for this project (such as pathos), and they are extremely easy to propagate for yourself with just a little extra soil, water, and time. You can grow unlimited numbers of plants from one small plant you get from a garden center (or your best friend!), and with a little effort, you can quickly have a good supply of plants ready whenever necessary.
DON'T MISS:
So…assuming you are already growing your own plants, here is a list of materials to have on hand so you are ready with a heartfelt-but-inexpensive gift whenever the situation arises:
Coffee mugs and koozies
Plastic tablecloths or vinyl wrapping paper (to cut up into decorative small squares)
Disposable or inexpensive 8-ounce plastic cups
Potting soil
Gift bags and tissue paper
All of these items are readily available at your nearest dollar store, but potting soil is cheaper to buy at a building store such as Home Depot or a big box retailer like WalMart.
For the sake of illustration, let's say my sister is having a rough time with an overly opinionated and obnoxious co-worker and could use some cheering up. Here's what I would do to put together a little gift to say "I care", and "Here's something to laugh about!":
Step #1 – Choose a mug or koozie from previously purchased supplies. In this case, I think a koozie that says "Do they ever shut up on your planet?" would fit perfectly.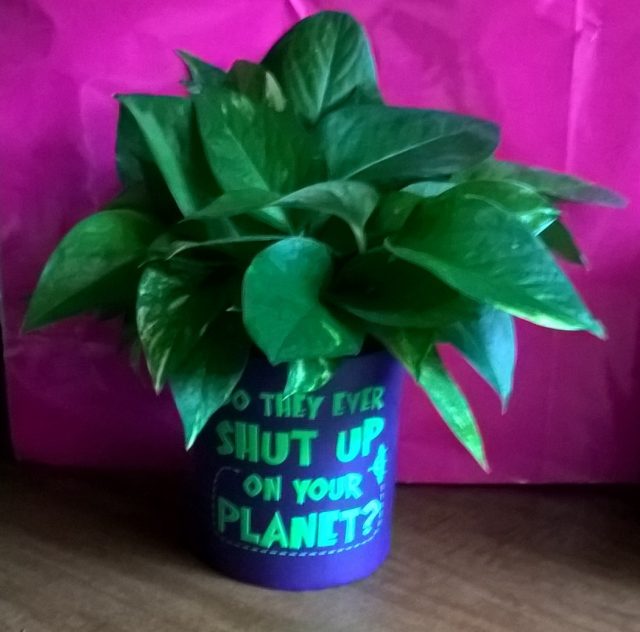 Step #2 – Gather a plant, extra soil, an 8-ounce plastic cup, 2 or 3 plastic decorative squares (cut from plastic tablecloths), a gift bag, and tissue paper.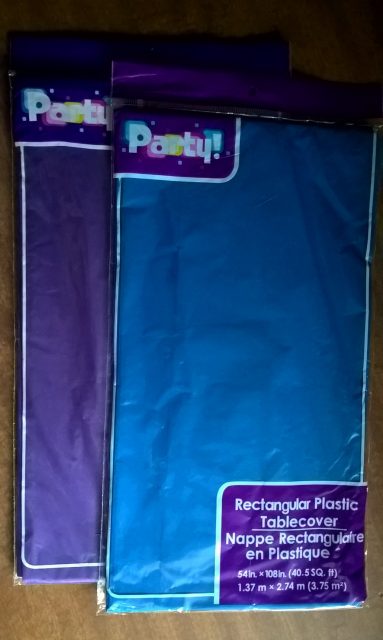 Step #3 – Place the plant in the plastic cup and add potting soil to fill the cup within one inch of the rim. Water lightly after tamping down the soil around the plant.
Step #4 – Place the decorative (and waterproof!) squares inside the koozie first, then insert the plant (see illustration). This is an optional step. As you can see from the pictures, it looks great with or without the contrasting squares.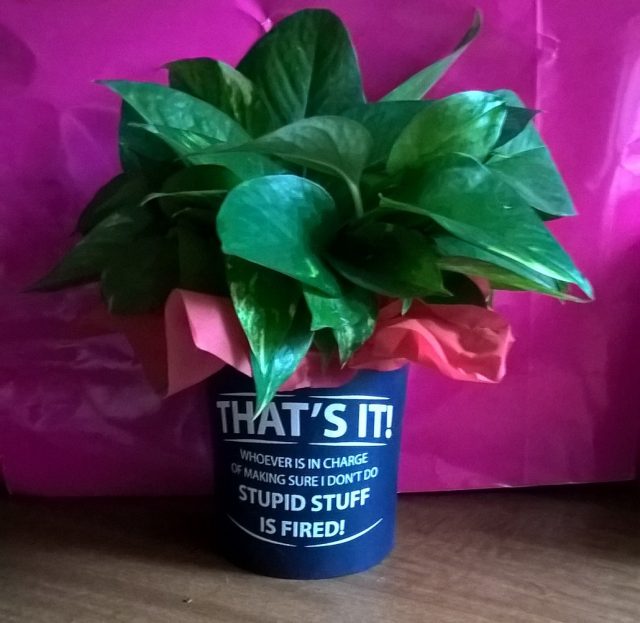 Step #5 – Place the plant in the center of two pieces of tissue paper and then place inside the gift bag as pictured, and you're done!
It truly is that easy to give something that is thoughtful and easily enjoyed without costing an arm and a leg!