In a previous post, I explained my dining room set renovation (see Part One!) and how I got started with this particular project. If you're a "newbie" to furniture upcycling, don't worry – it is easier than it sounds and/or looks. Trust me – if I can do it, so can you!! All you need to get started is a dining room chair you can practice on. And if you find pleasure in DIY-ing, you will definitely enjoy this process.
SEE ALSO:
While Part One dealt with re-doing the chair base itself…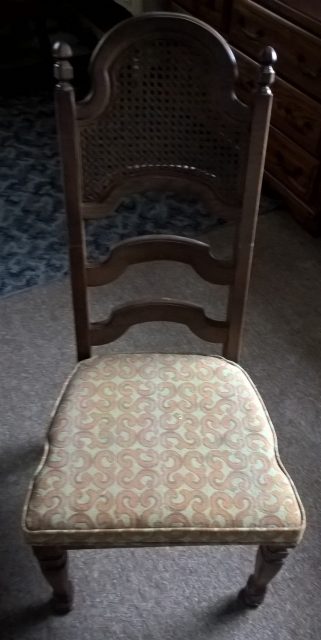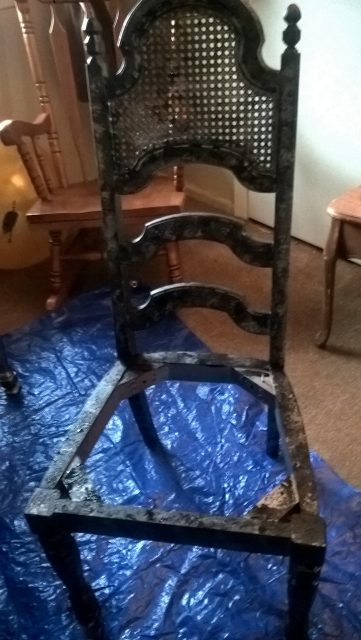 …Part Two is all about updating the seat cushion of the chairs for the dining room set. This is the seat that I set aside during the first step of Part One – separating the seat from the chair body. Now, take a look at the original fabric…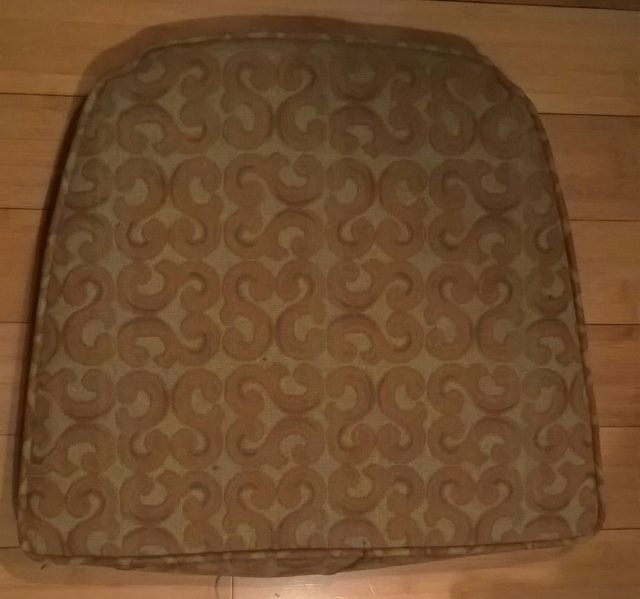 Just a bit outdated, don't you think? I found the fabric surprisingly sturdy and strong, but obviously time-worn, out of fashion, and begging for change – quickly!
Step #1 – Purchase new fabric for upholstering. Upholstery fabric for this type of thing is very easily found at your local craft store or large box store such as Walmart. It can also be purchased online through a variety of websites including eBay. When I was getting supplies for this project, I chose paint for the chair based on a some spray paint I found on clearance. I then needed to find fabric that matched the paint color well. I could have found it online, but it was better for me to see what my local Hobby Lobby had in stock because I wanted to be able to feel the fabric before I purchased it. This particular fabric was also on clearance (thrilling my thrifty soul!) and matched the paint color perfectly.
It isn't upholstery fabric per se, but it is a very sturdy, cotton/twill blend that should be adequate for the wear and tear the average dining room chair gets. I had a chance to visit the store unexpectedly the day I purchased this material, so I did not have a chance to measure the old fabric before I bought it. But not wanting to run the risk of it being gone by the time I got measurements at home and returned, I took a wild guess and purchased three yards of the material. This proved to be way more than enough to cover the six chair seats I needed it for, but  since one of the mantras I live by is "better safe than sorry", I am more than happy to have too much instead of too little!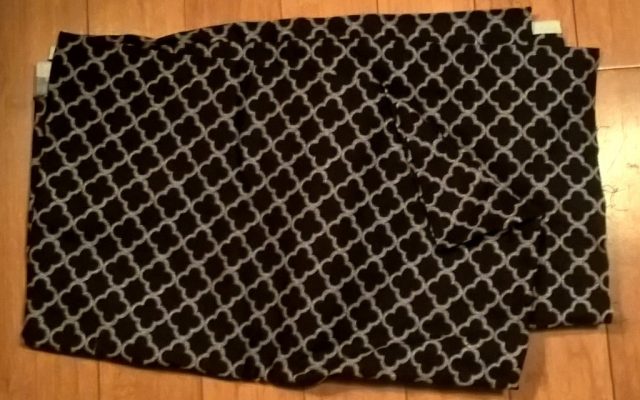 Step #2 – Remove the old fabric. This is really easy to do by just removing the staples securing it to the base of the chair. There are several ways to do this, and whatever works best for you is fine. I used a regular staple remover at first, but I soon found it was much easier to pry each staple up a little bit using a sharp case knife and then popping it off with a pair of needle-nosed pliers. There really isn't a wrong way to do this – within reason, of course. You don't need to be careful with the fabric since it is old, dirty, and ready to be thrown away, and the wood base is pretty strong and forgiving as well. Just get those staples out any way you can.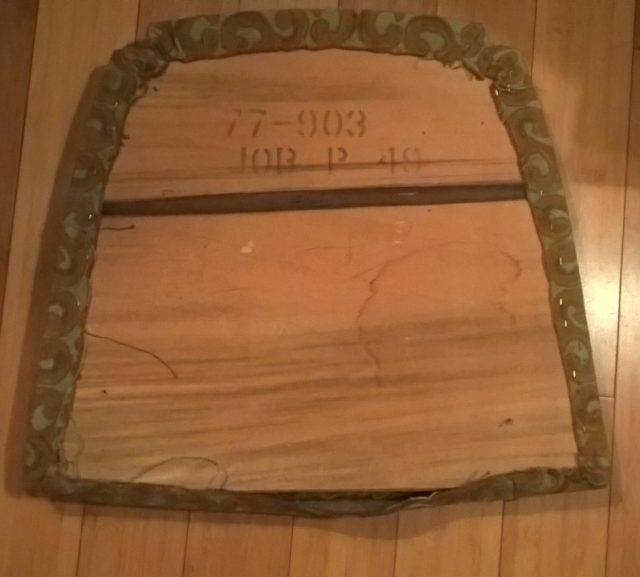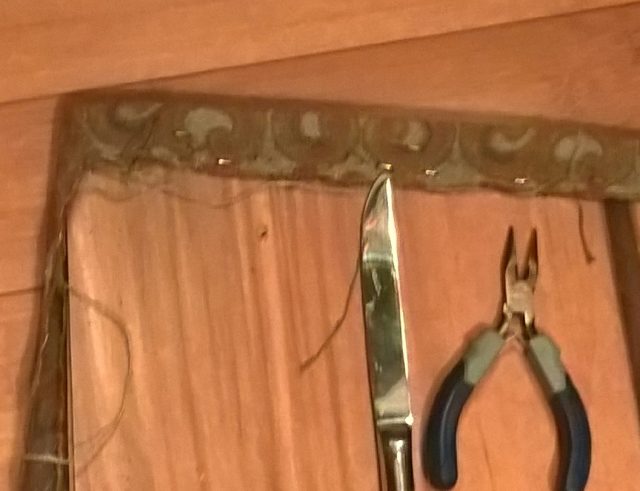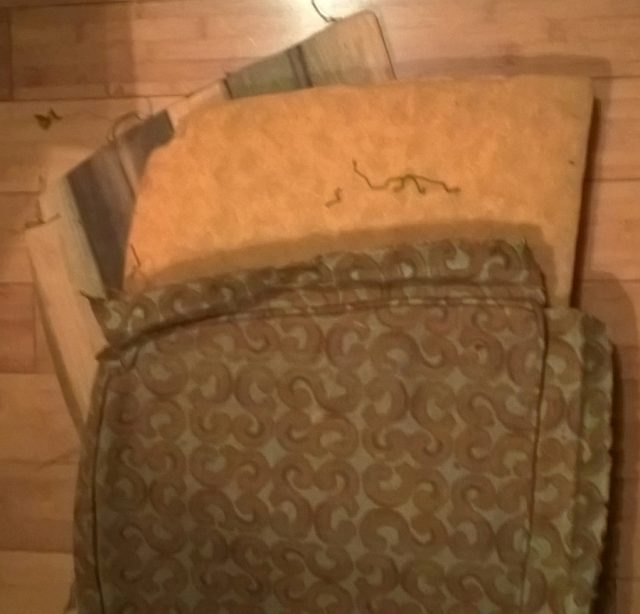 Once you remove all the staples, you will discover it is constructed of three parts – the fabric, the foam cushion, and the wooden seat.
Step #3 – The next step involves measuring the old fabric in order to determine how much new fabric you need for updating the seat cushions. If you don't already have new fabric on hand, you may want to do this step first in the process so you know how much you need to buy.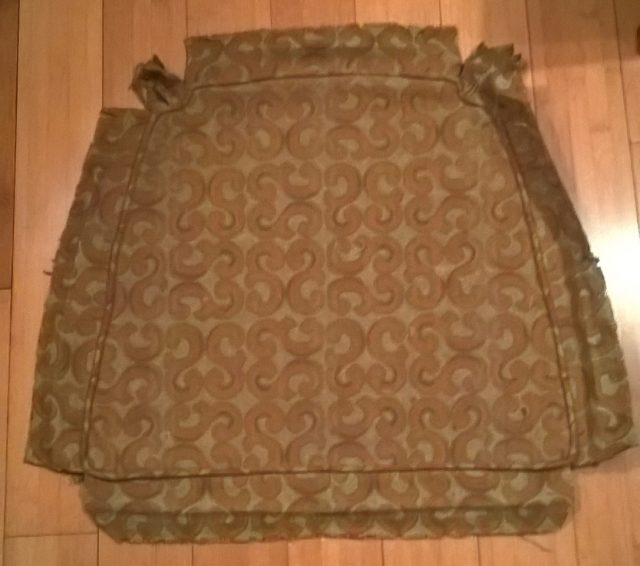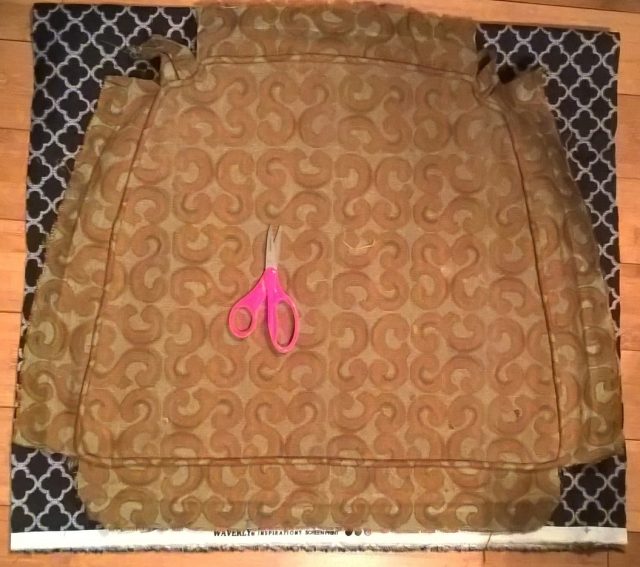 Step #4 – Now that you've determined you have enough fabric to proceed, use the old fabric as a template of sorts. Lay the new fabric on the table (or floor) with the back of the fabric facing up, then lay the old fabric on top of it. Using a black marker (in case it bleeds through somehow), roughly trace the outline of the seat fabric. There is no need to do this perfectly as long as you draw a little bigger than the old fabric pattern. You just need to make sure you have enough fabric to cover the seat cushion adequately with extra left over to staple to the bottom of seat securely.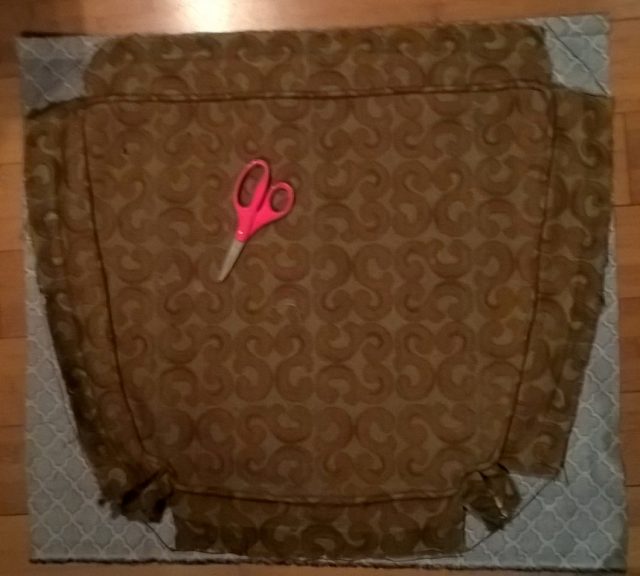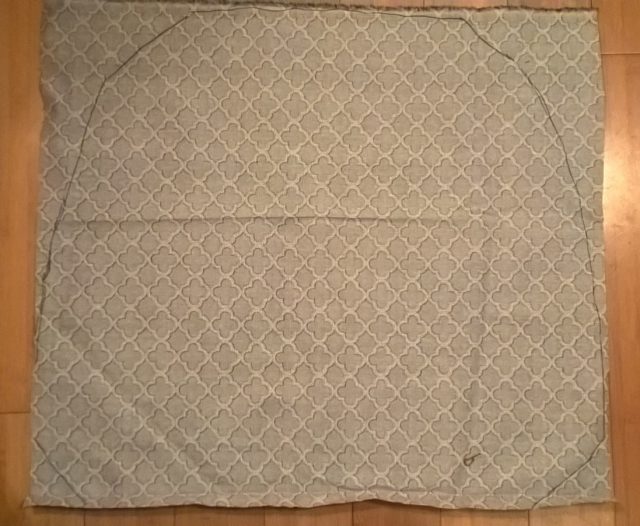 Step #5 – Once you've traced the shape of the old fabric roughly onto the new fabric, it's time to trim it. I chose to iron the fabric at this point. You can iron it, throw it in the dryer with a wet towel for a few minutes, or just leave it wrinkled since stapling it to the seat bottom will pull out the wrinkles for the most part. I just like working with freshly ironed fabric, so…I ironed before cutting.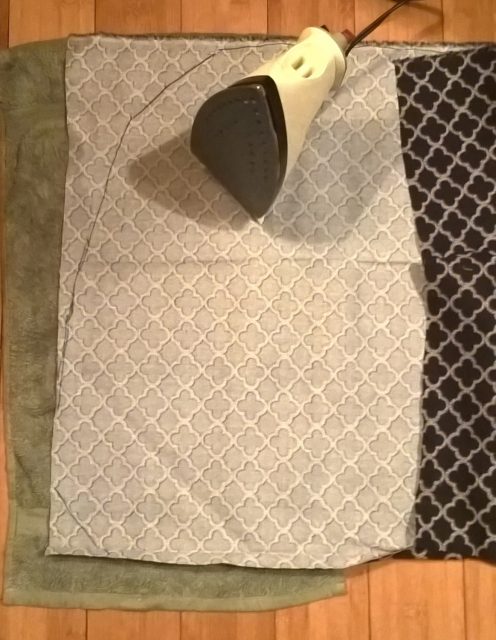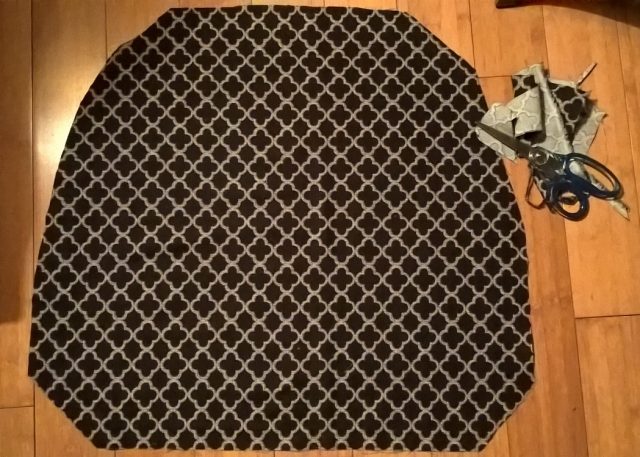 Step #6 – Now you should have a piece of new fabric for the seat cushion that is at least a couple of inches bigger than the size of the seat itself. This provides enough fabric to staple over the cushion as well as the seat itself. Lay the fabric face-down on the floor with the cushion on top of it and the wooden seat on top of the cushion as pictured below: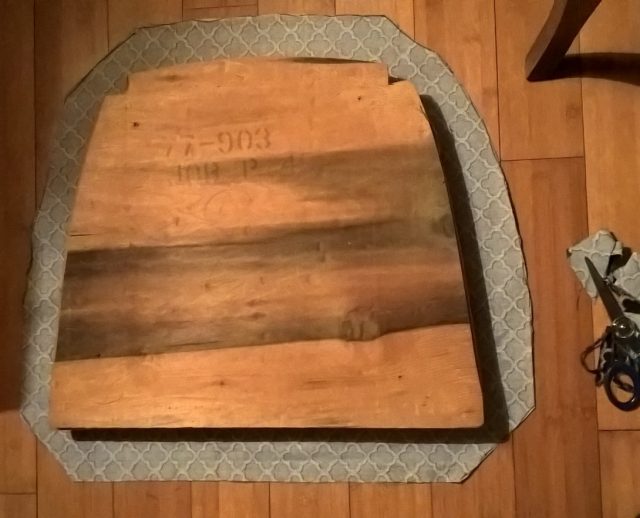 Step #7 – It's time to staple the fabric to the seat. If you've never used a staple gun before, it really is easy to use and simply amazing! It may be one of my favorite parts of any project requiring such a thing. This mini staple gun is inexpensive and a vital part of any DIY or decorating tool kit, especially for projects like this one.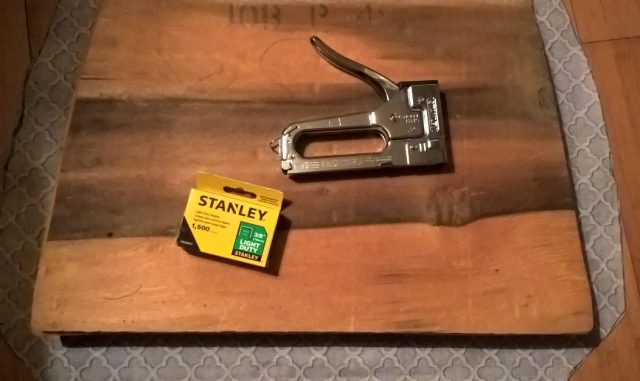 I chose to start at the back of the seat in order to deal with the right angle corners at the beginning of the process instead of the end. This allows me more flexibility when fixing any puckers or uneven spots because of those angles. While you don't need to use a ton of staples, I find it usually requires stapling once every 1-2 inches to hold the fabric securely in place. It also helps to be kneeling on the seat itself in order to stretch the fabric a bit before stapling. You want it to be firmly stretched across the cushion in order to keep it tight, but you don't want to pull it so tight that it creates bumps and lines across the surface of the seat.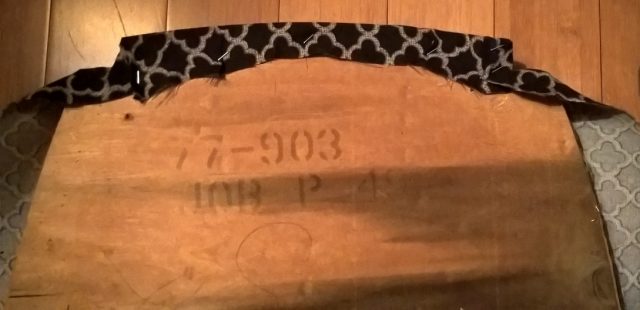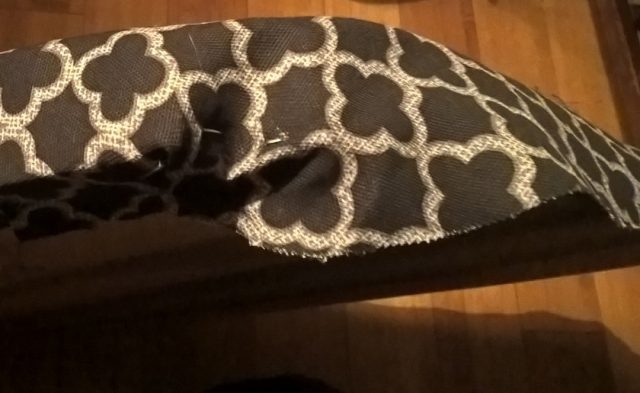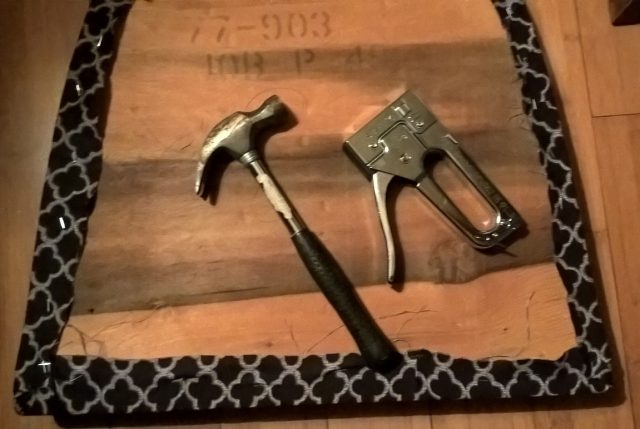 Stapling is another forgiving part of this project since it is so easy to remove the staples and re-do it however many times necessary until it meets your expectations.
Step #8 – This is one of the best parts of any project…setting the final piece in place! In this case, that means screwing the re-upholstered seat back onto the body of newly painted chair.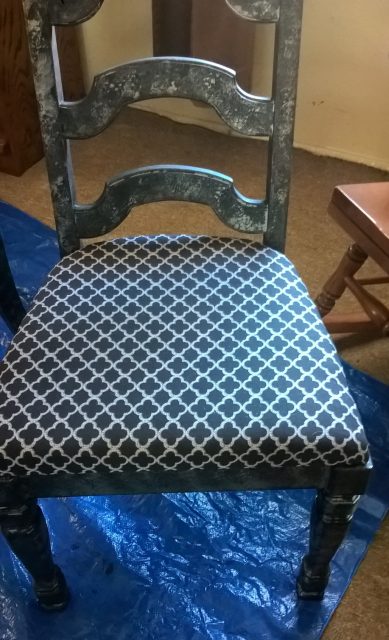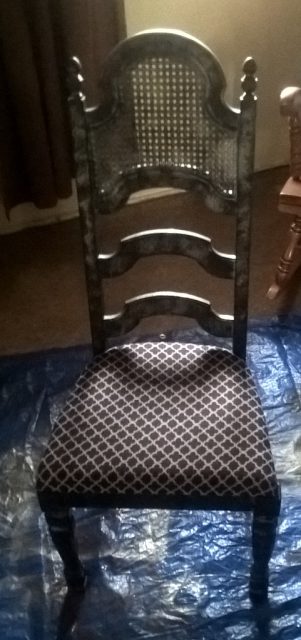 And there you have it…or at least you have the first chair done of your dining room set remodel! Now you can renovate the other five chairs of the dining room set. Stay tuned for the step-by-step instructions on upcycling the dining room table of this vintage dining set.