Have you ever received a thoughtful fruit basket as a gift and wondered what to do with the basket once you were done enjoying the fruit? We had just such a basket, and while it really wasn't much to look at in and of itself, I knew it had great potential for a thrifty crafting project in the future, so I saved it.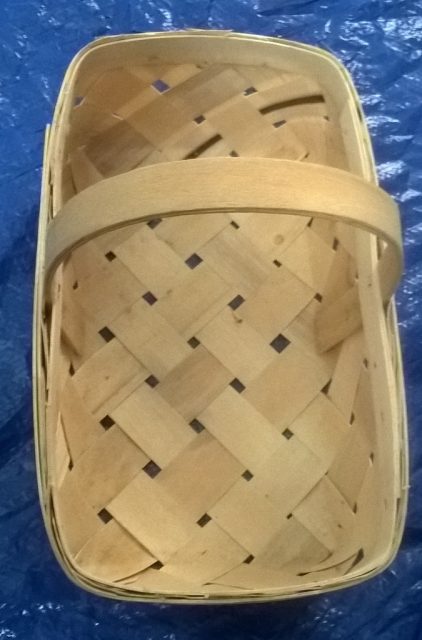 Fast forward a few months…I heard through the grapevine (actually through my best friend who happens to be the pastor's wife) that our church needed a utensil caddy to set out on the table for potluck dinners. My mind jumped to this nondescript basket, and I immediately pictured what it could turn into. I wasn't sure of the exact components of the project until I started looking through my crafting supplies to see what I already had on hand that could be used for the basket makeover. And as often happens, I already had everything I needed in my craft supply closet.
SEE ALSO:
If you also need a handy-dandy utensil caddy for whatever reason, gather up the supplies I listed below and set aside an hour or two to create this simple but attractive piece of thrifty décor.
Supplies Needed:
Basket
Plastic cups
Zip ties
Glue gun and sticks
Wood stain
Paint or foam brush
Sealant spray
Tarp (optional)
Fan (optional)
Step #1 – Since I tend to be a rather messy crafter, the first step of most of my projects involves laying down a tarp, newspaper, or an old sheet, etc., to protect the floor and/or any furniture within accident range. I learned the hard way that it is much better to be safe than sorry…and my carpets and furniture are much better off…now!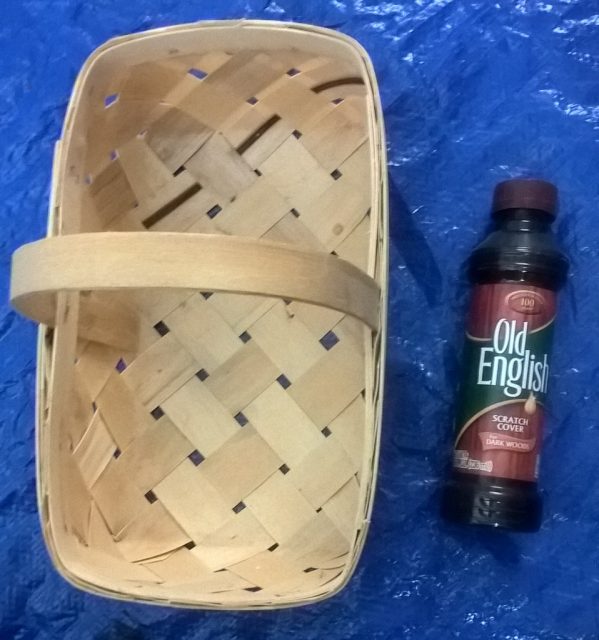 Step #2 – Stain or paint the basket itself. The basket I had for this project was made of some sort of really light wood…like balsa wood, and it was really easy to stain. I decided to use a dark, scratch cover stain I had on hand, and I really like the color it created. Since the base material of the basket was so absorbent, it was easy to just shake a few drops on small sections and spread it evenly with the foam brush.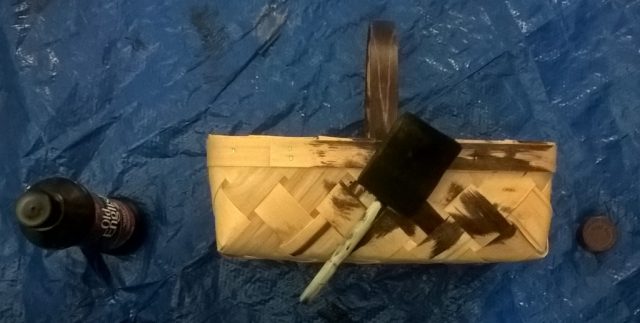 As the picture shows, the stain soaks in and spreads by itself as you also spread it with the foam brush. I did a rather spotty layer and then left it alone to dry overnight.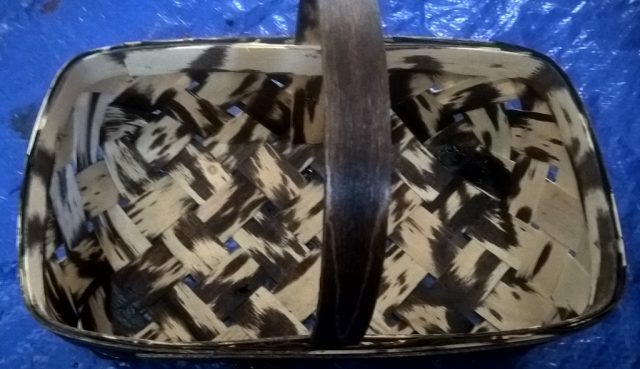 By morning, I was surprised how much it had soaked through to cover the basket uniformly.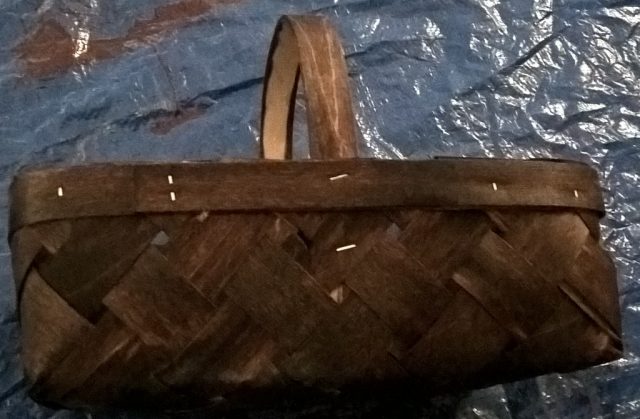 I applied some extra stain to the naked spots that stood out and let it dry overnight again. This time, I placed it in front of a fan just to make sure it cured well before sealing.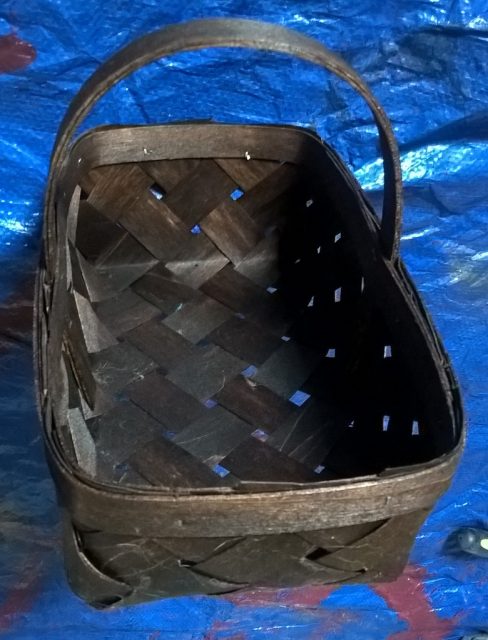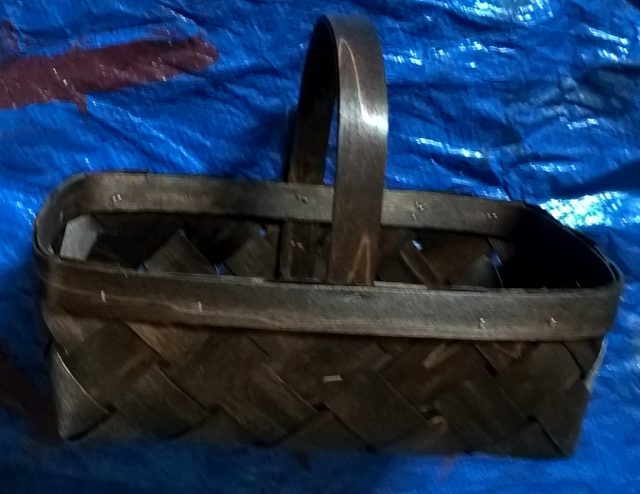 Step #3 – Seal the stained basket. This step is most important if you use any kind of wood stain. Otherwise, it will probably leave stain marks on your table (Don't ask me how I know JUST how very important this step is!). If you choose to use paint instead, you still want to seal it because it will be used around water and other liquids that might damage the finish if it isn't sealed properly. I used the shellac pictured because I already had it, but you can use any type of clear spray paint or sealing spray. Once sealed, the basket itself is finished, and it's time to move on to the cups that will actually hold the utensils.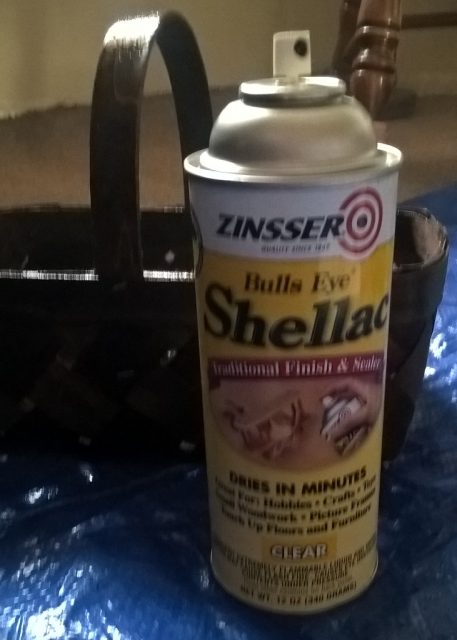 Step #4 – Prepare the plastic cup utensil holders. I use inexpensive, non-disposable plastic cups for many of my projects because the plastic is thicker than disposable cups AND they are very cheap to buy – especially after any major holiday. I often get them on clearance for $.50 or less for 10 cups, and they hold up pretty well for crafting purposes.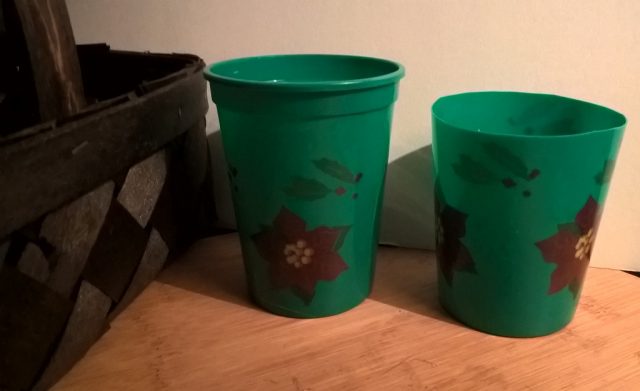 I trimmed three cups according to the height of the basket walls. One each for forks, knives, and spoons. In the picture above, the cup on the right is the one that has clearly been trimmed. I did that to all three cups before using an ice pick to punch double holes in the sides of the cups.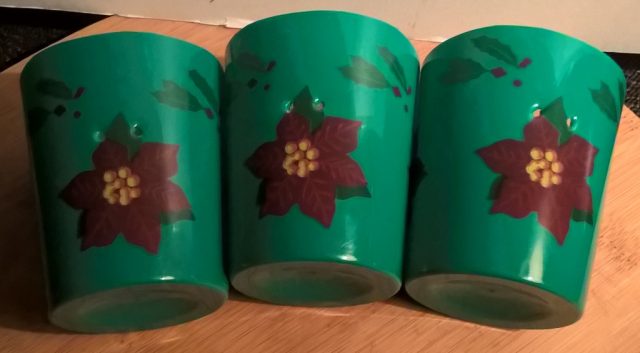 Step #5 – Zip tie the cups together. The double holes punched at the same height in all three cups are used to fasten them together with zip ties. Zip ties are also inexpensive and can be found at your local dollar store in the tool/hardware section.
Once you've fastened the cups together tightly, cut off the unused portion and then put a dollop of hot glue on the zip tie inside of each cup. This not only strengthens the hold of the zip ties, it also helps to prevent them from pulling through the plastic of the cups.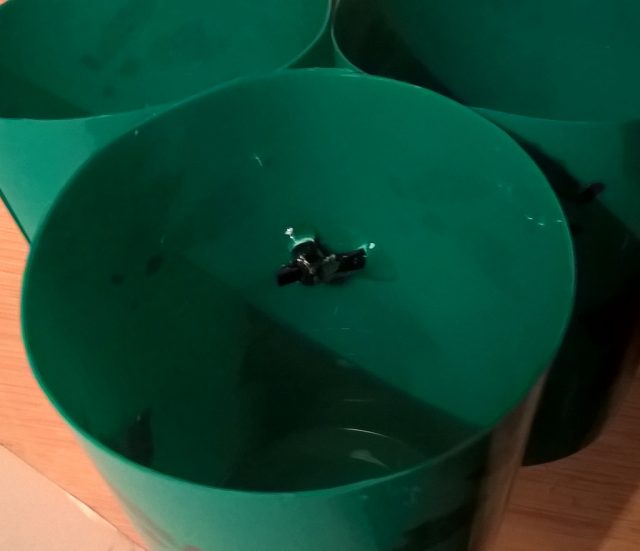 Step #6 – Decide the placement of the utensil cups. You will notice in the pictures below that there are several options as to where the cups can go. I decided to go with center placement so napkins could be placed on both sides of the utensils. However, I wasn't sure what would wind up working best for the church people using this caddy, so I did not permanently attach the cups to the basket. This makes it more versatile and allows for removal altogether if the cups need cleaning.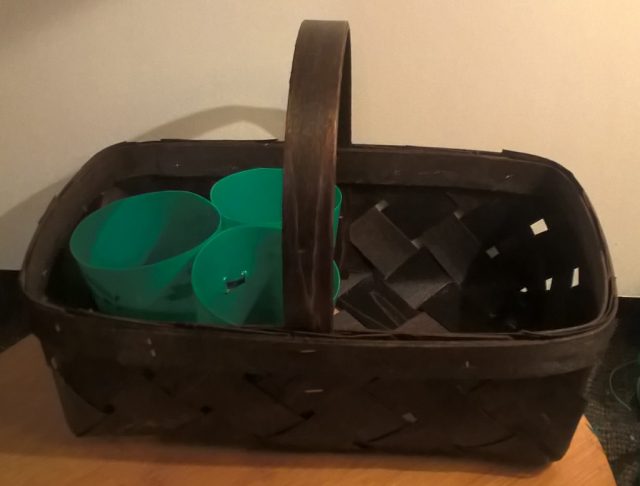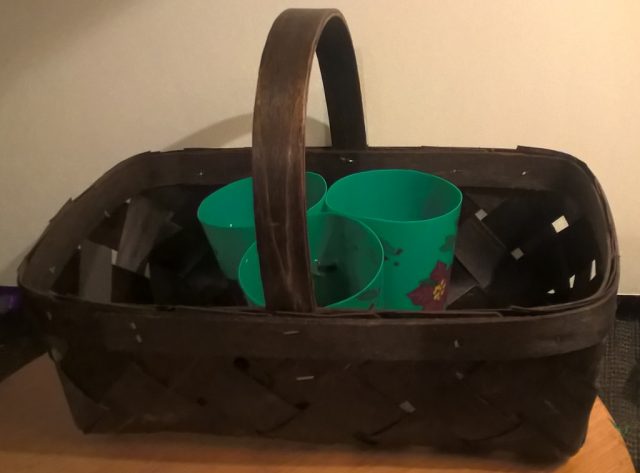 Step #7 – Add utensils and napkins. While we tend to use disposable cutlery for big gatherings, this caddy is sturdy enough to use with traditional flatware that is a bit heavier. It also works great for a variety of napkin sizes as well. All in all, this turned out great! It cost next to nothing to make and is cute as well as useful for the purpose intended…I love being able to upcycle things that might otherwise just wind up in the trash!